Islam-dominant region facing clash within its own civilisation, says retired envoy
May 25, 2015 09:00 PM IST
Former Indian Ambassador to United Nations, Narendra P Jain joined talks about Indian foreign policy as the BJP government completes one-year at the centre. Read excerpts of the interview.
Former Indian Ambassador to United Nations, European Union, Mexico and Nepal, Narendra P Jain joined Indian Foreign Services in 1953. Jain, an Indore resident, served as secretary, ministry of external affairs from 1984-86. He spoke to Hindustan Times about Indian foreign policy as the BJP government completes one-year at the centre.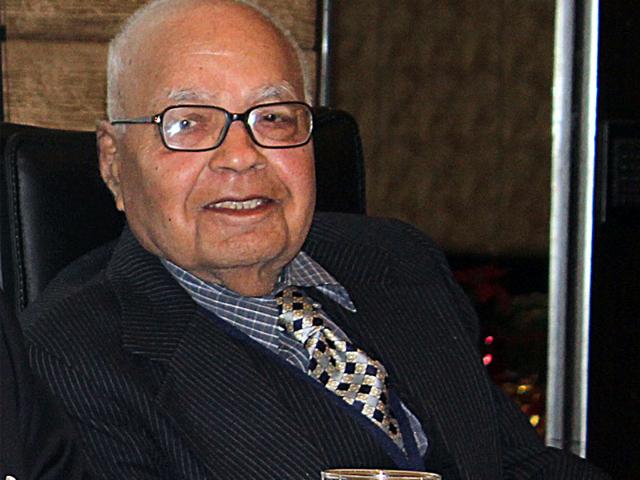 Despite India having signed mega business deals with China, the border dispute remains intact. Even if Line of Control (LoC) is defined, what is the guarantee that China will not violate it?
Border disputes carry a lot of historical baggage and nationalistic passions. Every solution to the mutually agreed line of control can be intractable unless overall bilateral relations improve and stabilise in different spheres. India and China have to learn to be both competitors and collaborators. It is in the interest of both to co-exist peacefully and walk together to make Asia's combined voice heard with greater effect. Indian PM Narendra Modi has made the right moves in this direction. It is time China reviews its desire to be dominant world power. In present age, you can't succeed as an expansionist but need to be a competitive, co-existing collaborator for a better world.
There appears to be interplay of secessionism, extremism, terrorism, jihad and civil war in Syria, Iraq, Yemen with Iran and US-backed Saudi Arabia forces playing their own role. US will withdraw forces from Afghanistan soon. What security challenges India faces in such a scenario?
The Middle East, Gulf region, the entire Islam-dominated region is facing what one might call 'Clash within its own civilisation.' Even Arab spring acquired violent overtones, and ill-conceived western policies only served to complicate it and in a way encouraged more terrorist groups. The buck lies with the Islamic nations to control the disastrous drift towards unbridled violence and escalating terrorism. Withdrawal of US forces from Afghanistan will pose problems. But in the long run stability would depend on how effectively the Taliban's power game is defeated. India and China can do it by continuing to offer economic and technical aid to strengthen Afghanistan's shattered economy. Unfortunately, Pakistan is hostile to India's constructive role in rebuilding Afghanistan.
Of late, has there been a significant shift in India's foreign policy to address Pakistan occupied Kashmir issue. Do you think BJP-PDP coalition in J&K will help solve the Kashmir issue?
India's stand on PoK has been consistent over the years. In a grand gesture during the heavy floods, PM Modi offered to help the PoK. The coalition government in J&K is a welcome move. India has taken strong measures at controlling border infiltrations in sensitive areas and sent stern message to Pakistan. If the coalition government functions smoothly despite inherent difficulties, it would eventually weaken the secessionist forces within Kashmir which Pakistan wishes to make a party for future negotiations.
In last one year, how India has come to be viewed globally?
India's foreign policy in the past one year has been a welcome mix of immediate results entwined with long term impact. The actively pursued 'Act East' and 'Link West' approach has led to closer and meaningful understandings and agreements with major Asian powers. PM Modi has injected innovative dynamism in the conception, formulation, and implementation of India's foreign policy. While enhancing India's global standing, he has stressed on integrated, coordinated approach to political, economic and cultural diplomacy.
"Exciting news! Hindustan Times is now on WhatsApp Channels
Subscribe today by clicking the link and stay updated with the latest news!"
Click here!