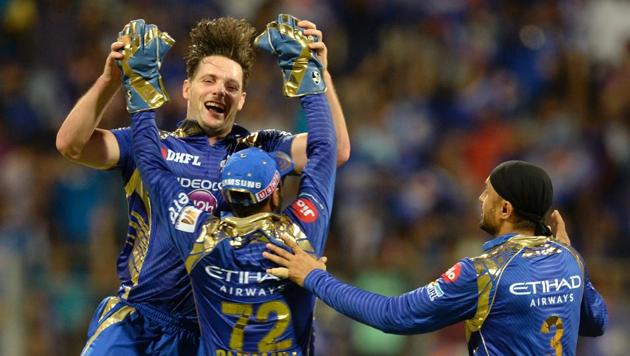 Mumbai Indians still have a long way to go in IPL 2017: Mitchell McClenaghan
Mumbai Indians' Mitchell McClenaghan starred with 3/24 to restrict Delhi Daredevils to 128/7 and clinch a 14-run win over Mumbai Indians in their IPL 2017 match
UPDATED ON APR 23, 2017 05:04 PM IST
Mumbai Indians romped to their sixth straight win in IPL 2017 on Saturday after beating Delhi Daredevils by 14 runs in a low-scoring contest. (MI v DD HIGHLIGHTS | SCORECARD)
Defending 143-run target, the Rohit Sharma-led side once again managed to win a contest where the hopes were very slim.
"We have bowled in some absolutely cracking games. It's been so many games where it may not look like we are going to win, but we showed a lot of maturity, all the young guys showed, maturity in other games and the big players like Kieron Pollard standing up in a few games. It's been really nice.
"It is nice sense of confidence, but not arrogance which is very nice because in a group like this you know you can back the skills of the boy next to you and you are going to know that he is going to give his hundred per cent," said Mumbai Indians' pacer Mitchell McClenaghan, who starred with 3/24 to restrict Delhi Daredevils to 128/7.
READ | Delhi Daredevils' Kagiso Rabada defends team after loss to Mumbai Indians in IPL
With six wins in seven matches, Mumbai Indians are virtually through to the playoffs. But McClenaghan is not wishing to think that far ahead.
"It's a long way to go. We have got a very liberal management and a very liberal team. So, fresh start every time. It is important that we don't get too high or two low… just stay consistent because there is ups and downs in T20 cricket," said the Kiwi pacer.
Defending a low total, the message was quite clear of what needed to be done.
"Obviously, you have to take wickets up front. The message was very clear, just to do our things. When you think of a sub-par score on a pretty good wicket, the team insists you to go out and be too aggressive with the ball and make things happen from the outset.
READ | Virat Kohli hails MS Dhoni's 'champion knock' for Rising Pune Supergiant
"It is nice to perform, but the main thing to take out of it is that every single person in our line up did their job. They even took an aggressive mentality to go out there. It was really nice to look around before going out there on the park and looking in everyone's eye and there was like great determination there so that everyone was in the game," he said.
Mumbai Indians skipper Rohit Sharma on Saturday hailed the Mumbai Indians supporters at Wankhede Stadium and termed them his team's 12th man.
"The crowd support has been amazing, they have rightly been the 12th man for us. The support means a lot, they've been coming in large numbers and pick us up when we are down. I hope they'll keep coming in large numbers," said Rohit.
Close