It's because of a fence that I play as an overseas player in IPL: Shakib
Updated on Apr 10, 2016 03:50 PM IST
One of the finest all-rounders around, Shakib al-Hasan talks about how playing for KKR makes him feel at 'home'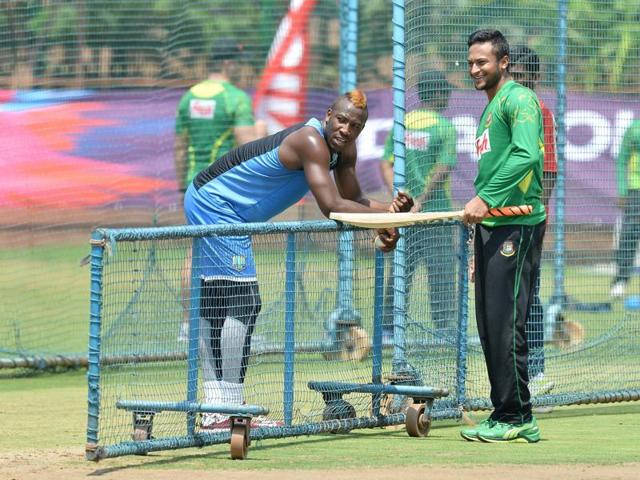 When in the City of Joy, Shakib al Hasan can't choose between mishti doi and rosogolla. Given a chance, he prefers luchi (puri) and doesn't miss an opportunity to watch the latest Bollywood movies.
"Apart from Shah Rukh Khan, I like Aamir Khan. Among actresses I like Kajol, Katrina Kaif and recently Deepika Padukone. I loved watching Piku," he said.
In a freewheeling chat with HT, one of the best all-rounders spoke about that Bangalore match and chuckled over the fact how it takes him less time to fly from Dhaka to Kolkata than his Indian teammates.
Excerpts
Q.It was a disappointing World Twenty20 but what have you learnt?
You learn every match. I won't say it was disappointing. Yes, you can say that we didn't achieve the results we wanted. But other than that we played good cricket. If we could have won one or two matches, the team would have looked different. Crucial situations happen more frequently in T20 matches and you get to learn a lot from them.
Q. The expectation at home has increased after the team's display in 2015. How do you deal with it?
We know expectation will increase as we get better. It shouldn't be taken in a negative way. Instead, we should think on the lines that 'since they expect so much from us maybe we have that ability'. We take it positively.
Q. The rivalry with India is peaking, on and off the field. What's your take?
I think it's more off the field. On the field, both teams know that the better on that day will win. Both teams try to play their best cricket and I don't feel they think beyond that. You could say that because of the crowd or hype created by the media.
Q. Could you share what was going through your mind in the last few minutes of the Bangalore game (against India)?
When Mushfiq bhai (Mushfiqur Rahim) was out after hitting those two boundaries, the first thing that went through my head was that Riyad bhai (Mahmudullah) had to get a single at any cost. If he had got that, they would have had to bring up the field for the last delivery. The worst case scenario was if we didn't get a run then we could have at least tied the game. Such is cricket.
Q. Two years back, you had a tiff with your board and you almost threatened to quit. How did you come out of that situation?
It took a lot of mental strength to come out of that situation. I received a lot of support from my wife, parents and friends. If I hadn't got that, I couldn't have come here. They told me that I could regain my position and that mattered.
Q. What makes the KKR team special for you?
The biggest thing is that it feels like home. After the national team this is the only other team where I have played so long. We speak the same language, share similar cultures and weather. Even the flight's just under 30 minutes! The players coming from other states in India take longer to reach Kolkata. It's only because of a fence that I have to play as an overseas player. If I go out people treat me like I'm one of them. The warmth you get here is amazing.
Q. KKR is a team that isn't about superstars. Do you think this formula will still work?
We don't have the superstars but everyone is a team man. That's our strength. Every one gives his 100 % and that is what we expect from each of us.
Q. Are you happy batting at No.7?
I'm happy batting wherever the team needs me to. I always try to contribute as much as possible. But it's also not as if I come in at No 7 all the matches. There have been situations when I was sent to bat at No 4 as well. But I don't think about it.
Q. A lot has been said about pitches. Do you think the Eden Gardens pitch will be slower?
The good thing is that the pitch will get a huge gap here after the April 13 game (because of elections). Otherwise, I don't think it will be bad. We played a practice match here, it was a good pitch, good for batsmen, and the ball was turning a bit too.
Q. Now that Narine has been cleared, how confident is the team?
I speak to him all the time, especially when we are sitting in the dugout and talking about the team situation. His contribution in both our title wins has been immense. His presence boosts the team. He is probably the best spinner in the shorter format so that's an advantage for us.
Q. Who are your closest buddies in this team?
Narine and Andre Russell. I am friends with all but if you ask me to pick then I would say I interact maybe a little more with these two.
Q. Are West Indies cricketers very popular with Bangladesh players?
It's their friendliness. If I don't go to them, they will come to me. That itself can start a great rapport.
Close Story
Personalise your news feed. Follow trending topics