Aruna Roy protests imposition of Sec 144 ahead of Mevani's visit
Noted activist Aruna Roy on Monday opposed the imposition of prohibitory orders in Khairthal (Alwar) and Neem ka Thana (Sikar) ahead of Gujarat MLA Jignesh Mevani's visit to the areas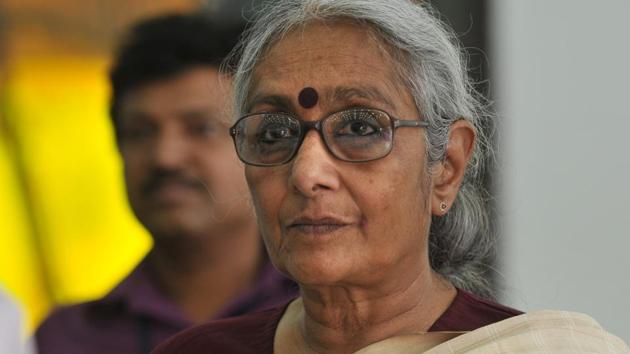 Updated on May 14, 2018 10:56 PM IST
Noted activist Aruna Roy on Monday opposed the imposition of prohibitory orders under Section 144 of CrPC in Khairthal (Alwar) and Neem ka Thana (Sikar) ahead of Gujarat MLA Jignesh Mevani's visit to the areas and also called the government's style of working 'fascist'.
The civil servant-turned-activist was addressing a press conference along with Mevani, Kavita Srivastava of People's Union for Civil Liberties and other Dalit activists, and called for an investigation by a special team into the arrests of Dalits in the wake of violence that took place on April 2 during Bharat Bandh by Dalit groups. She also expressed her discontent at the government's alleged suppression of protests and frequent imposition of Section 144.
"For those of us who want to protest, the street is our assembly and our parliament. Why does the government want to take that away from us? In Delhi too, they have taken Jantar Mantar from us. Now, if people want to protest, they have to rent Ramlila Maidan for Rs 50,000 a day," said Roy, who spearheaded the movement that led to the legislation of the Right to Information Act in 2005.
She also questioned why the state police cracked down on Dalits, who were protesting the alleged dilution of SC/ST Act in the state. "Why are they so offended with the assertion of Dalits. The police action certainly had an element of vindictiveness. They wanted to send out a message and ensure that the Dalits do not come on streets again," said Roy.
Kavita Srivastava said that after more than 40 days of violence some 375 Dalits and tribals are still languishing in jails. "The incident has exposed the clear bias of the government, police and judiciary towards the Dalits and tribals. These Dalits will not go back to living subordinate and undignified lives like their parents," said Srivastava.
Mevani, an independent MLA from Gujarat's Vadgam and Dalit rights activist, said that no state other than Rajasthan debars him from visiting any district and addressing the people. Last month, Mevani was stopped at Jaipur airport while he was trying to go to Nagaur.
Close Story