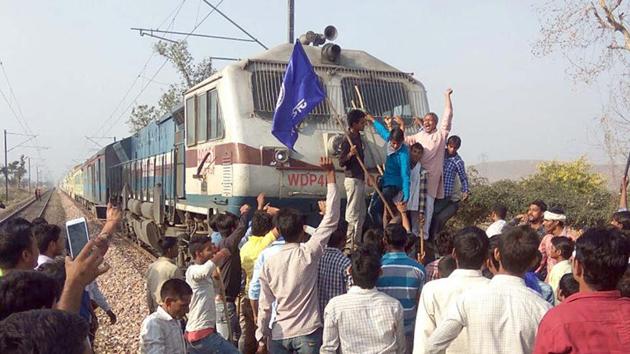 Dalit protest hits train services on Jaipur-Delhi, Delhi-Mumbai routes
The 'Bharat Bandh' called by Dalit organisations to protest a Supreme Court order, which allegedly dilutes a law protecting their rights, affected rail traffic on the Jaipur-Delhi and Delhi-Mumbai rail routes on Monday
UPDATED ON APR 02, 2018 10:31 PM IST
The 'Bharat Bandh' called by Dalit organisations to protest a Supreme Court order, which allegedly dilutes a law protecting their rights, affected rail traffic on the Jaipur-Delhi and Delhi-Mumbai rail routes on Monday.
The Northwestern Railway (NWR) cancelled five trains, while the schedule of eight other trains was partially affected.
On Monday morning, seven trains were stopped at different stations between Jaipur and Delhi due to protests. The New Delhi-Ajmer Shatabdi (train No. 12015) was stopped at Khairthal at 8.35 am; the Allahabad-Jaipur express (train No. 12403) was stopped at Alwar at 11.15 am and Ahmedabad-Shri Vaishno Devi Katra Express (train No. 19415) stopped at Bandikui station at 9.20 am.
The Ajmer-Delhi Shatabdi (train No. 15016) ran from Khairthal on Monday. It will remain cancelled between Ajmer and Alwar. The Jaipur-Allahabad (train No. 12404) ran from Alwar on Monday. It was cancelled between Jaipur and Alwar.
Trains which will not run on Tuesday are Jaipur-Mathura passenger (train No. 51974), Alwar-Jaipur express (train No. 14808), Alwar-Khairthal special (train No. 04807) and Khairthal-Alwar special (train No. 04808).
The Jaisalmer-Jodhpur Express (train No. 14809) will remain cancelled between Rai Ka Bagh and Jodhpur. The Bhildi-Jodhpur (train No. 74838) will not run until Jodhpur and terminate at Bhagat Ki Kothi.
In the Kota rail division, traffic on the Delhi-Mumbai railway route was obstructed after protesters occupied tracks at Hindaun City in Karauli district.
Around a dozen passenger trains, including Chennai-Jaipur, Golden Temple, were also affected. Rail traffic was halted in the afternoon after protester uprooted tracks at Hinduan City and vandalised signals.
Many trains were kept on halt at different railway stations of the Kota railway division including Bharatpur, Karauli and Kota.
Senior divisional commercial manager, Kota Railway division, Vijay Prakash said that efforts are being made to restore railway traffic on Delhi-Mumbai railway route.
Close