How a Dholpur village got electricity with help from a medical student and a Norway NGO
Rajghat, a small village of 39 families in Rajasthan's Dholpur, didn't show any signs of development until a few years ago – no roads, no electricity, no drinking water. But now seven families have got electricity connection.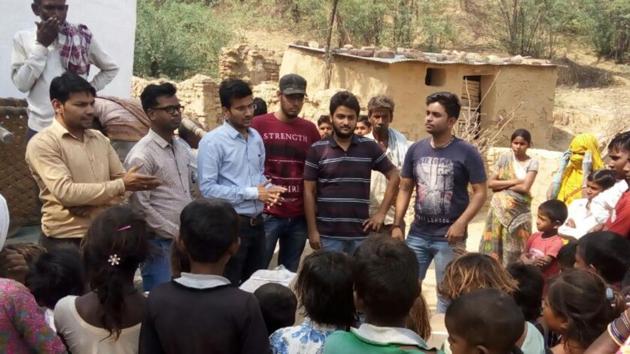 Updated on May 20, 2019 01:53 PM IST
Hindustan Times, Bharatpur |
Suresh Foujdar
Seven houses in a Rajasthan village on the banks of the Chambal river recently lighted up after they got electricity from government supply. The village didn't have electricity since Independence. The village got electricity supply due to the efforts of a medical student and the seven families got connections with the help of funds from Norway.
Rajghat is a small village of 39 families. It has featured in Indian films, 'Bandit Queen' and 'Pan Singh Tomar', based on dacoits. But it didn't have any signs of development until a few years ago – no roads, no electricity, no drinking water. The village is inhabited by boatmen, who work as daily-wage labourers.
In 2015, Ashwani Parashar, an MBBS student from Jaipur's SMS Medical College, learnt about the village and decided to run a campaign to bring development to it.
Parashar started a social media campaign, titled #Saverajghat, and mobilised people to donate for development work in the village. He also filed a PIL in the Rajasthan high court for lack of development in the village that is just 5km from the district headquarters in Dholpur.
"They laid electricity lines and are laying pipelines for drinking water. It has been slow work but finally things are looking up in Rajghat," says Parashar, who has completed his MBBS and is planning to get into a postgraduate course soon. "Even after electricity supply arrived in the village, the families didn't have the money to take connections. That's when we heard from Norway. The Indian Norwegian Community, a non-profit organisation, wanted to help us in bringing development to Rajghat," Parashar adds.
The Norway NGO heard about the Save Rajghat campaign in January 2019. "We were looking for our next project and planning to establish some work in a village of Rajasthan. We got to know about Rajghat through social media, and contacted Parashar. We talked to him about their problems and decided to help them. We were impressed by efforts of our young generation, and got attracted to help Rajghat. They are making efforts and we decided to give funds and other help we can do," said Jyoti Sharma, spokesperson of Indian Norwegian Community, in an email.
The Norway NGO launched a project, called SAKSHAM, to make people independent. Rajghat is the first project under this, Sharma added. "We started with providing funds for electric connection to seven families. It will continue until all families in Rajghat get that. Besides that, we plan to renovate school in Rajghat and so on. We have long-term plans for the village," said the spokesperson of the Norway NGO, which was founded by Norwegians of Indian origin in 2014.
The Indian Norwegian Community raises funds through events and sponsors in Norway.
"Every penny received from supporters will be used for Rajghat," Sharma said. "For us, it's a kind of adoption – we believe that people there are part of our family and we will make all efforts in our rights to make their life better," Sharma added.
Close Story