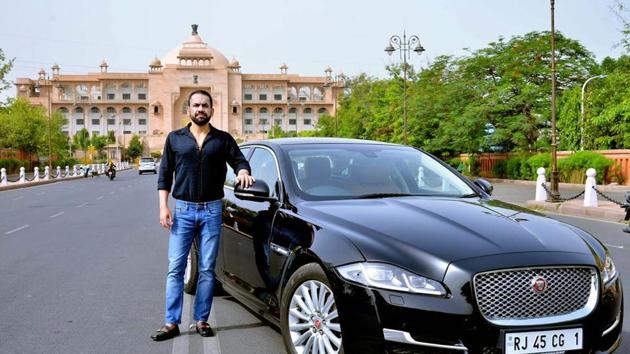 Jaipur businessman bids Rs 16 lakh to get 0001 number for his Jaguar
Tanejaa bought his first luxury car, a BMW 5 series, in 2011 and paid Rs 10.31 lakh for a special number RJ 14 CP 0001.
UPDATED ON MAY 16, 2018 09:49 PM IST
Model-turned businessman from Jaipur Rrahul Tanejaa has a special liking for the number '1' so much so that on Tuesday he spent Rs 16 lakh to get a fancy 0001 number for his new luxury car.
This was, however, not the first time that the 37-year-old businessman, who runs an event management company, spent a fortune for his favourite number.
Tanejaa bought his first luxury car, a BMW 5 series, in 2011 and paid Rs 10.31 lakh for a special number RJ 14 CP 0001.
He went on to purchase his second car Skoda Laura only because the registration number of the vehicle was RJ 20 CB 0001.
Later when he sold his first car and purchased a BMW 7, he retained its number RJ 14 CP 0001.
His mobile number also has five 1s in it.
"I believe in being number one in whatever I do. I want my event management company to be number one in the country," said Tanejaa, explaining his fascination for the digit 1.
Incidentally, he was also a topper as a student at Adarsh Vidya Mandir, Adarsh Nagar before he left home at the age of 11 to chart his own destiny.
Transport department officials said Rs 16 lakh that Tanejaa spent for the number RJ 45 CG 0001 for his Jaguar was the highest ever bid for a premium number in the state.
He bought the Jaguar for Rs 1.5 crore on March 25 and waited for one and a half months to get the special number.
"Even in 1996 when I bought a second hand scooter, I made sure its number added up to 1," he said. "The scooter's number was RJ 14 23M 2323. 2+3+2+3 adds up to 10 and 1+0 is 1," he explains.
When he purchased the scooter he did not have enough money to bid for a fancy number and so he had to settle for the second best option.
"My life had been full of struggle – now when I have money, I want to enjoy it," says Tanejaa, who scripted a rags-to-riches success story.
His father used to repair flat tyres in a village in Madhya Pradesh and shifted to Jaipur in 1984. For seven years, Tanejaa did odd jobs for a living and to fund his studies.
Until 18 years, he sold different things at different times: kites during Makar Sankranti, rakhis during Raksha Bandhan, colours during Holi and crackers during Diwali. He even sold leather jackets on footpaths. He drove auto-rickshaw at night – from 9pm to midnight – because he didn't have a driving license and at this time of the night, there was less chance of getting caught by police.
At 18, on neighbours' suggestions, he tried his hand at modelling. That turned to be a turning point.
"I was Mr Jaipur, Mr Rajasthan and Male of the Year," he recalled.
Tanejaa now organises premium weddings.
Close