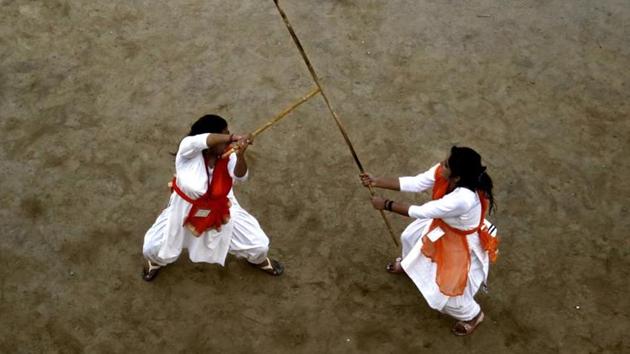 'Pink Belt' campaign to empower women in Rajasthan
Girls from schools and colleges will be taught self-defence techniques and made aware of legal rights of women.
UPDATED ON APR 05, 2018 08:22 PM IST
The Rajasthan women's commission will from April 25 launch a "Pink Belt" campaign for women's empowerment by training them to be physically and mentally strong and have sound knowledge of law.
The campaign aims at getting girls from college and school to join the "Pink Belt" clubs that will empower women by giving them knowledge about legal rights of women, self-defence techniques and mental toughness, said Suman Sharma, chairperson of the state women's commission.
"My objective is that the commission should take some measures that will help women. Through the workshop we hope to set up Pink Belt clubs which will train volunteers who will then train other women in their educational institutions or villages," she said.
The campaign will be launched with a workshop in Jaipur on April 25 by motivational speaker Aparna Rajawat.
Rajawat has held similar workshops in other cities where she talks about law, cyber crime and physical and mental empowerment.
Women sarpanchs too have been invited to the workshop so they can replicate the "Pink Belt" clubs at the village level, Sharma said, adding that the workshop will be free and open to all school and college students.
"The session will be interactive and tell the participants about the legal rights as well as various apps and helpline aids in the state and country for women. They will also be taught self-defense and mental strength techniques."
The students who register at the workshop will be made Pink Belt club volunteers.
Rajawat will then hold a three-day training workshop for these volunteers who will then go on to train other women.
Sharma further said that workshops will later be held in Kota and Udaipur.
Close