Rajasthan High Court paves way for revoking RCA's suspension, directs it to write to BCCI
Updated on Jan 24, 2018 09:49 PM IST
The Rajasthan High Court on Wednesday directed the Rajasthan Cricket Association (RCA) to submit an undertaking to the Board of Control for Cricket in India (BCCI) to revoke its suspension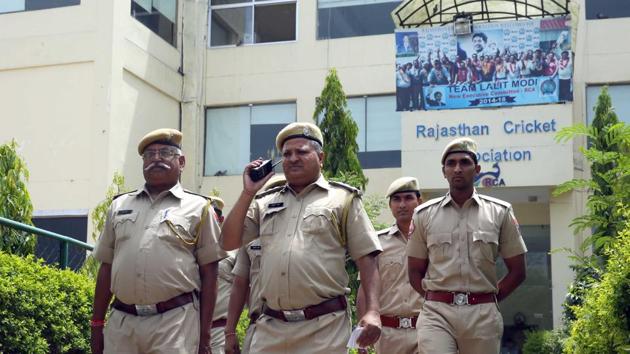 The Rajasthan High Court on Wednesday directed the Rajasthan Cricket Association (RCA) to submit an undertaking to the Board of Control for Cricket in India (BCCI) to revoke its suspension.
The court said that 31 out of the 33 districts of the RCA units have voted in favor of revoking the suspension on January 18.
On Wednesday, the court opened the ballet box and declared the result, saying the 31 districts have been voted in favor of removing the suspension of the RCA. Two proxy votes that of Alwar and Dungarpur, were, however, not counted, the court said.
Justice Manish Bhandari directed the RCA president and secretary to give undertakings to the BCCI regarding revoking the suspension of the RCA.
The court has also directed the BCCI to give its consent by Thursday afternoon.
State sports minister Gajendra Singh Khimsar had written a letter to the BCCI on January 22, asking it to organize Indian Premier League (IPL) matches in Jaipur and had assured support from the government.
The court will now seek the consent from the BCCI for organizing IPL matches.
The RCA was suspended in 2014 when Lalit Modi won the association elections. In December 2017, however, the BCCI lifted the suspension at its special general meeting, on the condition that former IPL chairman Lalit Modi stays away from its functioning.
"All the 33 districts will work together for the development of cricket in the state," said RCA president CP Joshi over phone from Bhubaneswar in Odisha.
"We try our best to organize the IPL matches in Jaipur," he said.
The RCA is drafting the letter and will send to the BCCI on Wednesday, RCA secretary Rajendra Singh Nandu said, adding that "it was good decision of the court and the dispute within the RCA is finally settled.
"Cricket will come on track in Rajasthan," he said.
The court directive has paved the way to revoke the suspension, said RCA joint secretary Mahendra Nahar.
"We have the suspension will be revoked on Thursday. Exile of the RCA is finally over," he said.
The Rajasthan Royals had written to the BCCI about the RCA's interest in organizing the IPL matches in Jaipur, said Rajiv Khanna, vice chairman of the Jaipur-based ILP team.
"Jaipur is our home ground and why not conduct matches here," he said.