To celebrate girl child, Rajasthan govt to develop parks
In a first of its kind project in the country, the state government plans to develop Beti Gaurav Udhyan (BGU) to promote the girl child in Rajasthan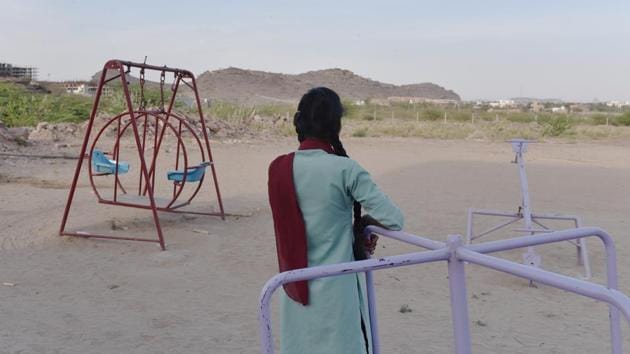 Updated on May 01, 2018 10:11 PM IST
In a first of its kind project in the country, the state government plans to develop Beti Gaurav Udhyan (BGU) to promote the girl child in Rajasthan.
Speaking about this project, which has started taking shape, special envoy and advisor to state Devendra Agarwal said that the objective of developing these parks is to celebrate the birth of a girl child, maintain her dignity and to tell people about the importance of girls in the society.
According to the 2011 census, there are 888 females per 1,000 males in Rajasthan. The state health department said that the sex ratio-at-birth has registered a 42-point increase in last five years. The numbers for the 2015-16 period stood at 929 females per 1,000 males.
In 2016, chief minister Vasundhara Raje had announced Beti Gaurav Udhyan. In one year, out of 18 cities, land has been identified at 15 places and work has also begun, Agarwal said.
Apart from promoting the girl child, the project also aims at developing a green cover in these cities, to provide means of entertainment and sports at these parks, to promote tourism and fulfil other social objectives.
These parts will have a green cover, landscape park, children's park, senior citizens park, herbal park, yoga garden, flower garden, lawn, cycle track, jogging track, open gym, play area for children, acupressure track, place to feed birds, cafeteria, game zone, art gallery, open theatre, water pond with boating facility, playground, parking and common utility. Achievements of local female sportspersons at the national and international level will be showcased at the art gallery. The open theatre can be used for promoting dance, play etc. Entry for the girl child will be free to the park.
He said that these parks will help increase the happiness index and encourage children to get play outdoors.
Agarwal said that 25% of the park will be developed through public private partnership (PPP) mode for making it self-sustainable, while the remaining 75% area will be developed through community participation and corporate social responsibility.
He said that these parks will be developed in areas under Urban Improvement Trust (UIT) and Development Authority.
In Rajasthan, Ajmer, Jaipur and Jodhpur have development authorities, while remaining 15 cities namely Kota, Bhilwara, Abu Road, Sawai Madhopur, Udaipur, Chittorgarh, Barmer, Sikar, Bikaner, Alwar, Bhiwadi, Bharatpur, Pali, Jaisalmer and Ganganagar have UITs.
Agarwal said that these parks will be developed on a minimum of 5 acres of land and maximum 50 acres depending upon the availability. Each city will have these parks on different themes and will have different sections where a family can spend quality time.
The theme for the Kota Beti Gaurav Udhyan will be on students, which will have adventure sports, while Abu Road will be on tourism and Barmer will have a club house theme in which table tennis, badminton and other games will be played.
Close Story