This group is rescuing puppies, dogs, cats and other animals from Kerala flood
Updated on Aug 17, 2018 08:37 PM IST
The Humane Society International India which is operating in Kerala's Nilambur and Tirur regions said it rescued 13 dogs and a kitten.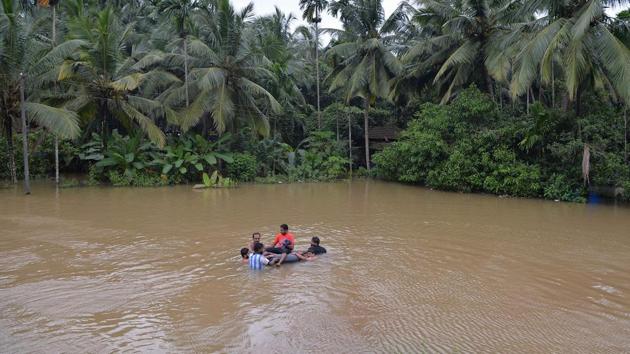 New Delhi/Thiruvananthapuram |
HT Correspondents
As armed forces and National Disaster Response Force (NDRF) personnel worked desperately in rain-battered Kerala to rescue marooned people and provide relief, an animal rights body said on Friday that its members were doing their the best to save and rehabilitate stranded and abandoned animals.
"Kerala is at a standstill right now, with many areas experiencing total devastation. Our team is encountering many animals who have perished. However, we are still finding abandoned dogs and were recently able to rescue 13 dogs and a tiny kitten who we found trembling as the floods raged around him," the Humane Society International India said in a statement.
It said many animals have perished in the disaster and it is working with the Kerala government and NDRF to locate and rescue dogs, cats and other animals left behind after their owners were evacuated to safer places.
Read: Pet dog wakes up family minutes before house collapses in Kerala landslide
"We are bracing ourselves for when the floods finally subside and we can finally access some of the areas currently totally cut off, where we may find more animals we're desperately hoping to reach," said Sally Varma, HSI India's education and awareness officer, in the statement.
A team of six HSI India experts have been operating in the state's Nilambur and Tirur regions this week while the organisation is also providing food, shelter and medical care to sick or injured animals.
While two puppies, now named Wally and Eva, were rescued from a place they were left tied up and in danger of drowning, the team came across a woman in Thrissur who refused to leave her home without her 25 dogs, and HSI India's team took them to a safer site in a nearby veterinary hospital.
HSI India said it was also coordinating with the collector of the districts and government veterinary hospitals to assist and accommodate animals across Kerala.
Read: Kerala authorities close dam gates to save elephant from swirling flood waters
Personalise your news feed. Follow trending topics