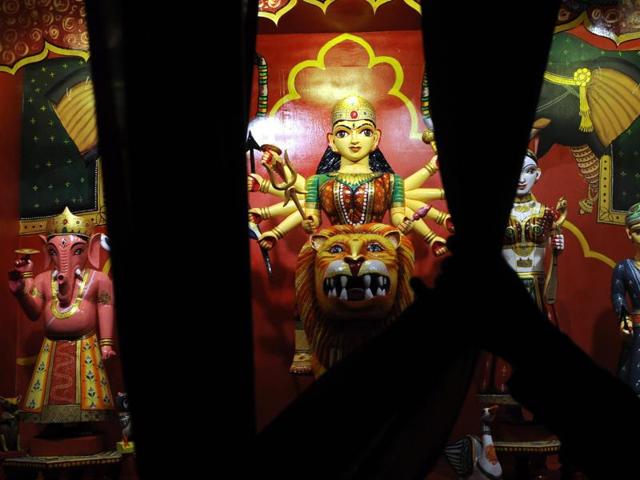 How the differently-abled and the elderly experience Bengal's biggest festival
Does the puja pandal near you have a ramp for giving easy access to people on wheelchairs?
Hindustan Times | By Rushati Mukherjee
, Kolkata
PUBLISHED ON OCT 07, 2016 11:12 AM IST
Does the puja pandal in your neighbourhood have a ramp for giving easy access to people on wheelchairs? Is there a First-Aid kit for emergencies? What about a separate entrance for the elderly?
If the answer to any of those questions is no, it's time to take a look at how the differently-abled and the elderly experience Bengal's biggest festival.
"Very few pandals in the city are disabled-friendly," says Indranil who is visually-challenged. "There are hardly any volunteer available to help us during rush-hours or otherwise. There are no wheelchair ramps or First-Aid boxes available. I've even heard people saying, 'Pujor shomoy abaar keno oder aana baba.' " (Why bring these people during Puja)
Read:In this Nadia club puja, meet Mamata as Durga
While the needs of a sizeable section of the society get ignored during Puja, it is left to a handful of NGOs to make the efforts. National Institute of Professionals is one of them. The 'Differently Abled & Senior Citizen Friendly Durgotsab Award 2016' is being held by NIP in association with the Forum for Durgotsab and the Kolkata Sharodotsab Samannoy Samiti. The award is now in its sixth year. Its primary criterion is to judge whether pandals are accessible for senior citizens and the differently abled. The panel consists of differently abled citizens, senior citizens and volunteers. And this year, the organizers have come up with a novel way to vote. Visitors to pandals can now check into the Award's Facebook page and post their experiences. This way, a fairer assessment of the conditions can be made, the organisers feel.
The Braille Durga Puja Guide for the Blind has also been created this year by NIP in association with the Bengal government, Forum For Durgotsab and Kolkata Sarodotsab Samannay Samity.
Read:Get ready to sweat it out during Durga Puja
Abhirupa Kar of Civilian Welfare Foundation, an NGO that works for the rights of Paralympics athletes, has a similar vision. "Every year in Kolkata, we prepare a report called 'Paralympic Puja Parikrama. Eminent Paralympic athletes from Bengal, such as Rubiya Chatterjee and Saheb Hussain, have been part of the Parikrama's panel. We visit some of the pandals around the city during the peak hours of Ashtami and Nabami to see how they can help differently abled people enjoy the Puja," she says.
Organizers often forget that differently abled people deserve the same kind of access that abled people do, she points out. Even something as apparently insignificant as placing the entrance at the back of the pandal can make a lot of difference. "Why should disabled people have to be placed in a position where they cannot take part in the entire ambience of Puja?" asks Kar.
Flying Squirrel Holidays, a travel company, in association with Tribeca Care, have come up with the idea of Raaj Barir Pujo Darshan, a unique initiative to help senior citizens. "We noticed that most of our clients could not go outside during the Puja," says Sanjukta Deb of Tribeca Care. "The crowds and the lack of medical facilities pose huge problems. Those who have limited mobility also have no way to gain access to community pandals."
Read:Sayantani to Mouli: TV stars look forward to Durga Puja festivities
From this difficulty was born the idea of a one-day assisted tour of major pandals in Kolkata, solely for the elderly. "On Saptami, those who sign up for the programme will be taken on a guided tour of some of the city's most famous pandals," says Niloy Nag of Flying Squirrel, "They will travel in an air-conditioned bus, accompanied by a doctor and a physiotherapist. Toiletries, medication and other emergency equipment will be available at all times." In the afternoon, lunch will be hosted at Ramkrishnapore Bose Bari, a centuries-old Puja in the suburbs, where the guests can relax and enjoy without having to bother about the crowd. The program has, unsurprisingly, met with an enthusiastic response. "We might consider extending the tour next year, and of opening it up to more people," says Deb.
The Vivek Puja Parikrama, organized by Vivek, a social welfare organization, is a similar effort. Last year, the organizers took differently-abled children and residents of Nabanir Old Age Home on a tour of some of South Kolkata's most famous pandals.
Read:Eat, sip, pray: Where to dine this Durga Puja (2nd Course)
They enjoyed the artwork and idols and were able to partake of bhog at Milan Sangha Club. HealthETC, a diagnostic chain in Kolkata, has arranged for pandal hopping for thalassemia patients on Shasthi. They will be taken to see the Goddess and help judge events held at the pandals. The patients will be taken to pandals in special vehicles. On-site medical support will be available throughout the journey. "It's giving us more joy and pleasure to share our happiness with these ailing people," said Harsh Saraf, director of HealthETC.
Change is in the air. Mr Debajyoti Roy, secretary of NIP, says how Puja committees themselves have now become much more aware about the needs of differently abled people and the elderly. "I often receive enquiries from Committees asking about what steps they can take to make Pujas more inclusive," he says. "These are the signs that indicate that our movement is showing results."
Kolkata is certainly changing and taking the necessary steps.
Close