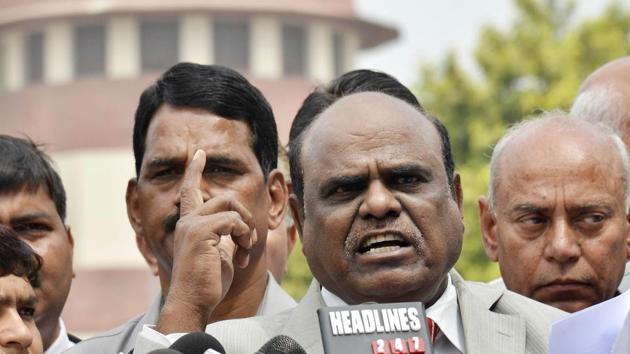 Justice Karnan wants media to be fair, portray him as victim of caste discrimination
Karnan has always mentioned in his orders that he is a Dalit and his orders against the judges are based on laws protecting the Scheduled Caste and Scheduled Tribe people
UPDATED ON MAY 04, 2017 12:26 AM IST
Calcutta high court judge CS Karnan on Wednesday expressed anguish that a section of the media was not portraying him as "a victim of caste discrimination."
Karnan has accused a number of top judges of corruption, triggering the first-ever contempt proceeding against a sitting high court judge. The top court also declared on Monday all orders passed by Karnan invalid, and said no court or tribunal shall take cognisance of his directions.
The Supreme court also ordered on Monday a medical examination of Karnan, escalating an unprecedented confrontation within the judiciary.
In an open letter titled, 'Calling attention all Media Agencies, WhatsApp, Facebook etc', Karnan on Wednesday evening said, "I have been involved in certain altercations with some erring judges, with a sincere intention to bring about a change of heart and mind with such judges for the glory of our judiciary and the well-being of our country."
Stating that he had informed the media about the notices he had sent to the judges because the "free press have better contact with the general masses of the country," Karnan said he was pained to note that "crucial parts" of his communication had been omitted.
"For example, I have often mentioned in my communications that I am a victim of caste discrimination by some erring judges and such violations attract a jail sentence with fine on the perpetrators," wrote the Calcutta HC judge referring to the Scheduled Caste and Scheduled Tribe Atrocities Act.
"It is most unfortunate and perhaps a national disaster that such critical issues never figured in most of the national publications," wrote Karnan and requested the media to be fair and unbiased.
Justice Karnan's clash with the judiciary started when he accused several judges of the Madras HC - where he earlier served - and an SC judge of corruption, nepotism and casteism. His allegations triggered contempt proceedings, the summons for which he ignored before issuing counter "orders" against the Supreme Court.
The escalation led to an unprecedented arrest warrant being issued against him on March 10. But he refused to receive it - when a team of Bengal police led by the DGP reached his home - and summoned the apex court judges instead.
The HC judge has so far passed six suo motu orders against the CJI and other judges. In April, Karnan even directed the Air Control Authority, New Delhi not to permit CJI Khehar and the seven other judges to travel abroad.
Karnan has always mentioned in his orders that he is a Dalit and his orders against the judges are based on laws protecting the Scheduled Caste and Scheduled Tribe people. He has alleged that he is being targeted for his caste.
Close