Mao gave us cigars, didn't want to be our idol, says Khokan Majumdar
Even at 83, Khokan Majumdar's eyes haven't totally lost the glimmer of intelligence. Majumdar, one of the founding members of the Naxalbari movement, spoke to Debjyoti Chakraborty on his trek to China to meet Mao Zedong and his take on present day Maoists.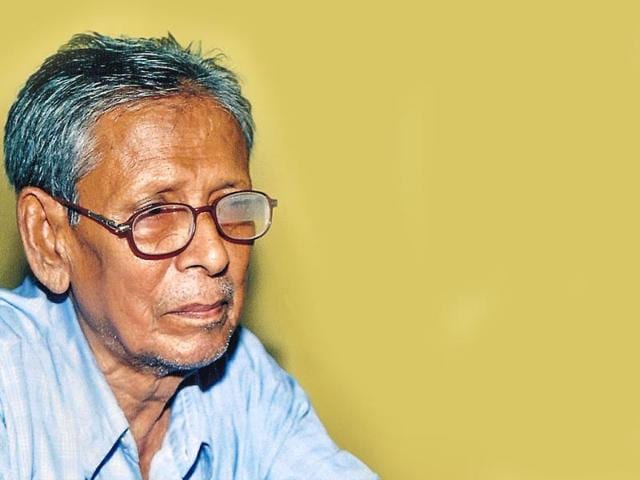 Updated on Jul 07, 2013 11:05 AM IST
Hindustan Times |
Debjyoti Chakraborty
Even at 83, his eyes – dimmed, no doubt, with age – haven't totally lost the glimmer of intelligence.
From behind thick glasses, they constantly shift to different parts of the wooden shanty with a tin roof that he calls his "room", which actually is an office of the CPI (ML)-Janashakti at Khemchi in Naxalbari, about 570 km north of Kolkata.
The only noticeable thing in the room is a life-size photograph of Charu Majumdar — the unquestioned leader of the Naxalbari movement during his lifetime — with one of his quotes about eliminating class enemies on a huge festoon.
Dodgy as he had to fend for himself all his life as one of the acolytes of Charu babu — often on the run under different names and faces — Khokan Majumdar, born as Abdul Hamid, hasn't forgotten the tricks of subterfuge.
When asked to answer a question that he finds uncomfortable for his party or himself, Majumdar just shifts his gaze or says, "I no longer remember the details after a cerebral stroke I had six years ago."
The ravage of the attack is evident. His speech slurs. His right hand and leg are not as strong as they used to be — his left limbs are still active, though. But he goes for a walk every morning around 4.30 all alone.
"You should always have somebody with you." He smiles, and again shifts his gaze to the small ceiling fan fighting a losing battle in a hellishly hot late June morning.
Clad in a lungi and a shirt — he has two sets of each and a pair of vintage trousers and a shirt for the occasions when he has to appear in public —Majumdar believes he is still in politics and proudly introduces himself as a politburo member of the CPI (ML)-Janashakti, an almost marginalised faction of Naxals.
But he refuses to accept that the party he helped set up in 1969 has become almost a relic of the past after several rounds of bitter and vicious faction fights.
Majumdar, these days, sounds critical of the Naxalbari movement that began on May 25, 1967 and permanently changed the face of Left politics in India.
"It was a mistake to get detached from the rural people and focus more on urban guerrilla tactics." Instead, he enjoys narrating his trip to China in September, 1967 and his meetings with Mao Zedong.
Asked about his journey to China with four of his associates — Mujibar Rahman, Deepak Biswas, Khudan Mallik and Kanu Sanyal — his eyes twinkled. "We decided to meet the chairman and seek his opinion on our movement. Charu babu was keen on Mao's opinion."
"How did you reach China?"
"First, we crossed the Pakistan border and asked for their help. But the wounds of the 1965 war were still fresh. They told us that they didn't want to open another front with India so soon and pushed us back. Actually, they were suspicious of our politics. Then we went to Nepal and from there we entered China through Tibet, mostly on foot."
Majumdar said the Chinese were initially suspicious of them and placed them under strict vigilance. But once convinced that they were really representatives of the Naxalbari movement — which Beijing radio had called the Spring Thunder — they took them in as state guests.
"How was your first meeting with Mao?"
"One day, we were taken to a pavilion-like structure in a park. We could see top party and military leaders seated around a long table. But we could not find Mao among them. Then, one of our hosts took us to a man pacing in the garden and smoking furiously. The man smiled and shook hands with us. We were overwhelmed."
Majumdar said Mao and the entire Chinese establishment were keen on political developments in India.
"We stayed there for three months and received training in political ideology and guerrilla warfare." But it didn't have a happy ending.
"Mao was quite upset with the slogan, "Chiner chairman amader chairman (China's chairman is our chairman). He said it's wrong and politically immature. We had no explanation to offer."
Majumdar said since his party — especially Charu babu, who thought that the Naxalbari movement was ideologically close to the Chinese experience — Mao's opinion was important.
And when they came back and reported Mao's opinion to Charu Majumdar, he went into depression.
So, Majumdar gave him a cigar from Mao. "Mao gave each of us a cigar. But I saved it as a memento. I gave it to Charu babu to cheer him up."
"Who interpreted for you? Mao spoke only Chinese and you spoke no English."
"I don't remember all those details. It's about 50 years ago. And remember, I had a stroke six years ago."
Learning politics began early for Majumdar. A marginal farmer's son, he left home at 12 to run away from the life of a bidi labourer.
The story that followed was of a helpless boy, doing odd jobs. He began active politics as a trade union activist after joining a tea garden near Naxalbari. And then he met Charu Majumdar, already a hero among the peasants.
"I met Charu babu in 1953. We fought on the very first day when Charu babu denounced the Indian communist party's focus on building mass organisations. He thought the Chinese could make their revolution a success only because they avoided that route. I didn't agree with him. And that tension was always there."
On the day of the Naxalbari uprising, Majumdar led a small band of tribal farmers and faced the police. He doesn't recall who drew the first blood, but distinctly remembers that a police officer rushed towards him and collapsed just in front of him.
"When I carefully laid him on the ground, I noticed three arrows buried deep on his back."
That was the beginning he thinks to be proud of. But the strategy adopted later on was of unnecessary bloodshed.
Asked whether the Naxals actually believed that they were following the Chinese model, he said, "Our understanding at that time was insufficient. But our enthusiasm and commitment cannot be questioned."
What went wrong, Majumdar said after almost half a century, was the lack of contact with the people. "Charu babu was in a hurry to go to war with the establishment. So, our people didn't have anything to fall back on once things became too hot to handle. We were scattered, lost and immersed in endless factionalism."
The eyes were no longer shifting. They were watching every bit of reaction that his words produced. But the moment passed before the next question was formed.
Majumdar said although it was too late for his party to think about Mao's opinion, there were small victories and a strong legacy. Maoists are still important in Indian politics.
"But are they in touch with you and your party?"
"They used to come to us for discussions. We were a brother party. But then they stopped visiting us. They're making the same mistake maybe — going to war with the establishment without preparing the ground."
"But they are better organised and more resourceful."
Majumdar looked away. He doesn't want to discuss the Maoists. His only comment in this context: "We can't even repeat history. We tend to forget everything."
A visit to Naxalbari confirms Majumdar's claim. Almost 50 years after a peasants' revolt turned into the most important armed struggle in independent India, hardly anything has changed in Naxalbari, barring some random signs of development.
After almost four-and-a-half hours of intense discussions and reliving his days as a man of action, Majumdar suddenly thought of playing host and offered tea, but retreated hastily after being snapped at by a female voice that came from somewhere behind his shanty.
So, he took me to a roadside tea stall that he frequents — he walked with a strange gait, dragging his weak right leg behind his left one and swaying his right hand to maintain balance. The stall also serves rice and fish curry to the daily labourers, mostly from the Rajbongshi tribe, and, of course, doesn't have a name.
The stall owner, more out of love for Majumdar than awe, asked him whether he had eaten anything that day because tea in an empty stomach is poison. "Please have something with tea." The reply was indifferent: "I don't remember. Maybe I had some puffed rice in the morning. I don't feel like eating now."
Asked sternly to have something with tea, he agreed reluctantly. We ordered a pack of biscuits. He munched two — eyes closed — dipping them in tea and wrapping the rest carefully.
My last impression of Khokan Majumdar alias Abdul Hamid, one of the leaders of the bloodiest movement in India's history: a slightly built old man walking back slowly — his right arm swaying comically —to his "room" and to another evening of loneliness and a life-size photograph of his leader.
Close Story
Personalise your news feed. Follow trending topics