Porter's death sparked off Raniganj riots in Bengal
The death of Mondal sparked off a series of communal clashes in the two industrial towns of Raniganj and Asansol that has so far claimed at least three other lives according to official records.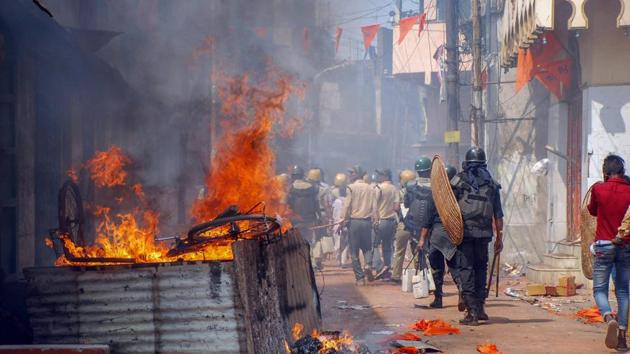 Updated on Apr 02, 2018 10:41 PM IST
Hindustan Times, Raniganj |
Sumanta Ray Choudhuri
When Mahesh Mondal went to Karbala Maidan, a vast field with intermittent patches of green separating slums of Hindus and Muslims in the heart of Raniganj, to answer the call of nature on March 26, he hardly knew his end was near.
A Ram Navami procession organised by the Vishva Hindu Parishad (VHP) passing through Shaldanga-Vikashnagar area where Mondal lived, moved though the field and some people in the procession allegedly raised slogans threatening Muslims which immediately triggered a violent backlash.
"The residents from the other side of the field started pelting stones, bricks and bombs. Some of them chased my husband and started hitting him with blunt weapons almost smashing his face," said Mondal's widow Nutan Devi (38).
Mondal (41) an original resident of Lakhisarai in Bihar, used to earn his living as a porter.
The death of Mondal sparked off a series of communal clashes in the two industrial towns of Raniganj and Asansol that has so far claimed at least three other lives according to official records.
The scale and intensity of the violence surprised even old residents who could not recall when the last communal clashes took place in these two towns.
On March 25, the day of Ram Navami, another procession by the VHP had passed off peacefully.
"Every year Ram Navami processions are organised in our locality. This year it was bigger in size with many from outside the locality joining the procession. Jai Shree Ram slogans were more vigorously shouted occasionally punctuated by direct threats," said Chanda Mahato, the wife of a cycle van puller and resident of Shaldanga-Vikashnagar.
Mahato's neighbour Sarita Paswan said that when the people from Shaldanga-Vikashnagar rushed to rescue of Mondal, people from the other side started attacking them.
"Some of them were even shouting that anyone trying to rescue Mondal would also be killed. But somehow Mondal was rescued and was first sent to a local government health centre. There he was administered an injection and sent to Marwari Relief hospital, from where he was again referred to another hospital where he was declared dead," said Paswan.
Paswan also said that while the attacks took place, some women rushed to the Raniganj police station and asked them to immediately rush police personnel.
"Initially, they were hesitant. But when we started a demonstration, policemen were deployed around 2 pm and situation slowly calmed down," she said.
Although none form the VHP was available for comment, RSS assistant general secretary of Asansol region, B K Jha denied allegations of provocation from the processions.
"The rallies on both days were absolutely peaceful. The attacks on the rallies were unprovoked," he said.
On Monday, almost a week after the clashes, the situation was quite tense on the Karbala side, the neighbourhoods with the Muslim settlements.
"The situation is tense. Even yesterday, a transformer burst and it triggered a lot of tension," said a police sub-inspector posted at Shaldanga-Vikashnagar.
The police stopped the media from visiting the Karbala Maidan area to talk to Muslim slum dwellers.
PROHIBITORY ORDERS WITHDRAWN
On Monday, the administration lifted prohibitory orders under section 144 of CrPC in the riot-hit areas of both towns as the situation limped back to normal.
"Section 144 of CrPC was withdrawn from 6 am on Monday since normalcy has returned to Asansol and Raniganj," said L N Meena, commissioner of Asansol Durgapur Police.
The ban on internet services would, however, continue till April 4.
"We are preparing a list of the dead and those affected by the clashes. We would pay Rs 2 lakh compensation to the next of kin of the dead and Rs 10,000 to those adversely affected," said Asansol mayor Jitendra Tiwari.
Meanwhile, the National Human Rights Commission (NHRC) sent a notice to the chief secretary, home secretary and director general of police of West Bengal and over the alleged failure of law enforcement agencies "in protecting the liberty and dignity" of people.
The NHRC sought a report within four weeks after an on-the-spot inquiry by a team of officers led by someone not below the rank of a senior superintendent of police.
(With inputs from Koushik Dutta)
Close Story