Teen behind Facebook post that led to Basirhat clashes re-arrested, booked for attempt to murder
Feb 15, 2018 12:42 PM IST
The 17-year-old was arrested with Hindu Samhati leader Tapan Ghosh and two others for assaulting a group of journalists.
A 17-year-old boy, out on bail after his alleged Facebook post triggered days of communal unrest in West Bengal's Basirhat last year, was arrested along with Hindu Samhati leader Tapan Ghosh on Wednesday.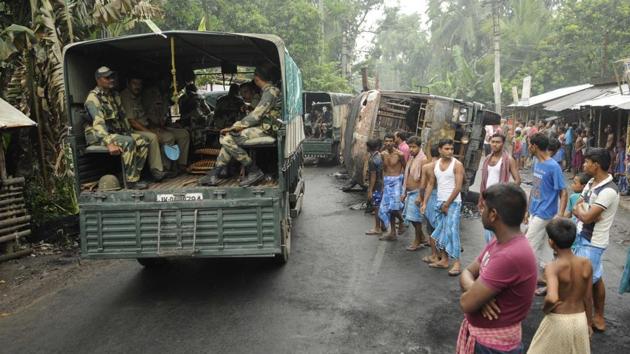 They were arrested with two other members of Samhati, a right-wing outfit, after some journalists were assaulted during an event organised to present 14 members of a Muslim family who had "returned" to the Hindu fold.
"The minor is one of the four arrested. We will produce documents in the court and plead for transfer of the case to the juvenile justice board," said Hindu Samhati president Debtanu Bhattacharya said.
The four, booked for attempt to murder, causing grievous hurt and other charges, will be produced in a city court on Thursday afternoon.
A 65-year-old man was killed as communal violence swept Basirhat in the North 24 Parganas district bordering Bangladesh after Muslim mobs went on a rampage, angered by a controversial Facebook post by the Hindu boy.
Dozens of houses and shops were vandalised and police vehicles set on fire before the situation was brought under control.
A police probe later found that the post was not put up by the teenager but his friend, also a Hindu and 17, with whom he had fallen out.
Both were arrested but were moved to a juvenile home after a Hindu Samhati lawyer produced papers in support of them being minors.
Minors in conflict with law are kept in juvenile homes and their cases heard by juvenile justice board.
The two were granted bail on December 16 and released from a juvenile shelter two days later. They had been staying in Ghosh's house ever since, sources said.
Police have challenged the bail and a hearing is scheduled for February 21.