'Will enforce only CAA,' says Vijayvargiya as BJP takes U-turn on NRC in Bengal
Updated on Dec 13, 2020 11:52 PM IST
Till the 2019 Lok Sabha polls, the BJP's national and state leaders had maintained that the NRC will be prepared in all states, including Bengal.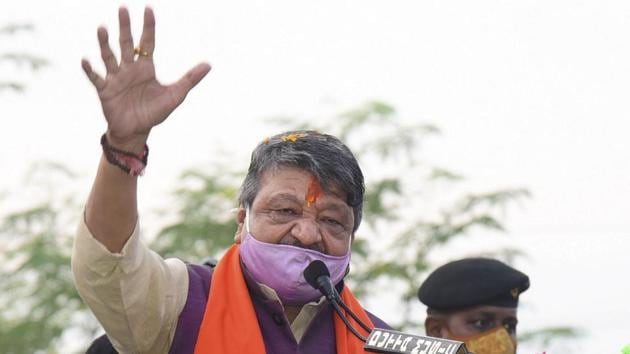 Hindustan Times, Kolkata |
Tanmay Chatterjee | Edited by Sparshita Saxena
Months after campaigning in Bengal in support of the National Register of Citizens (NRC), the Bharatiya Janata Party (BJP) on Saturday took a U-turn, saying it would not be implemented in the state which goes to the polls next year.
Till the 2019 Lok Sabha polls, the BJP's national and state leaders had maintained that the NRC will be prepared in all states, including Bengal.
During a visit to the headquarters of the Matua Mahasangha at Thakurnagar in North 24 Parganas on Saturday, BJP national general secretary Kailash Vijayvargiya told the Matua community's young face and local BJP Lok Sabha member Shantanu Thakur and others that the Centre will implement the new citizenship law as per the Citizenship Amendment Act (CAA) but there will be no NRC exercise in West Bengal like Assam.
Vijayvargiya is in charge of the BJP's organization in the state. He went to Thakurnagar to discuss Union home minister Amit Shah's possible visit. Shah will arrive in Bengal on December 19 on a two-day trip.
The Matua community, which migrated from Bangladesh to escape religious persecution before and after the Independence is the single largest Namashudra or Dalit Hindu community in the state. It can influence the outcome of elections in many assembly segments along the Indo-Bangladesh border.
For the Matua community, which hosted Prime Minister Narendra Modi's first election campaign in Bengal before the 2019 Lok Sabha polls, permanent citizenship is a longstanding demand.
Also read: Date for next round of talks with farmers soon - Union minister
The BJP will start campaigning from January for the implementation of the new citizenship law, Vijayvargiya and national vice-president Mukul Roy announced at a public meeting in Kolkata on December 6. BJP national president JP Nadda also said during his recent visit that CAA will be enforced once the rules are framed. However, till Saturday, no leader said that there will be no NRC in Bengal.
"The BJP is confused. Its leaders are scared of preparing the NRC in Bengal after what happened in Assam where more than 12 lakh Hindus did not find their names in the draft list," Bengal's minister of state for parliamentary affairs, Tapas Roy, told HT.
"NRC was a political slogan for the BJP. Now it has backtracked because numerous Hindus in the state will face trouble if the exercise is carried out. I have a feeling that the government will not be able to enforce the CAA as well," said Kolkata-based political science professor and current affairs analyst Udayan Bandopadhyay.
TMC tackles rebels
Concerned by rumblings among senior leaders before the crucial assembly polls, the Trinamool Congress (TMC) leadership on Sunday held talks with disgruntled state forest minister Rajib Banerjee in a bid to bridge differences while expelling a close aide of heavyweight leader Suvendu Adhikari who resigned from the cabinet last month.
The expelled leader, Kanishka Panda, was secretary of the TMC unit in East Midnapore district where the Adhikari family represents two Lok Sabha seats, an assembly seat and heads a civic body.
TMC secretary-general Partha Chatterjee and election strategist Prashant Kishor held an hour-long meeting with the forest minister at Chatterjee's residence. While Chatterjee remained tight-lipped, Banerjee claimed that the talks covered "political strategy."
Also read: How much Covid-19 vaccine will be shipped in US
Leaders close to the minister, however, said he raised issues such as corruption and nepotism by some leaders in Howrah district, where Banerjee represents the Domjur assembly seat while talking to Chatterjee and Kishor.
"I attended the meeting as a party worker. We discussed strategy for the coming days. I cannot share anything more with the media. In a party, there can be disgruntled people and there can be people who are over-satisfied. These things are sorted through discussion. I will be available if I am called for more talks," the forest minister said.
Posters in support of Banerjee and Adhikari are appearing across West Bengal, including Kolkata, since last month, stoking speculations that the two popular and comparatively younger leaders, may leave the TMC. Posters, with images of Banerjee and the words, "symbol of honesty," written in Bengali, appeared in Howrah on Sunday as well.
Personalise your news feed. Follow trending topics