Anti-ageing to skin lightening, here are 9 beauty tips to use honey as a skincare ingredient
Jan 30, 2023 07:27 PM IST
Honey is a natural antibacterial and anti-inflammatory agent that has been used for eons! From anti-ageing to skin lightening, here are 9 ways to use honey as skincare ingredient
The most effective moisturiser found in nature is honey and in addition to moisturising our skin, honey also aids in the reduction of fine wrinkles. When honey is directly to eczema-affected skin, it helps in preventing infections and speeding healing, apart from moisturizing the skin as it is a natural antibacterial and anti-inflammatory agent that has been used for eons!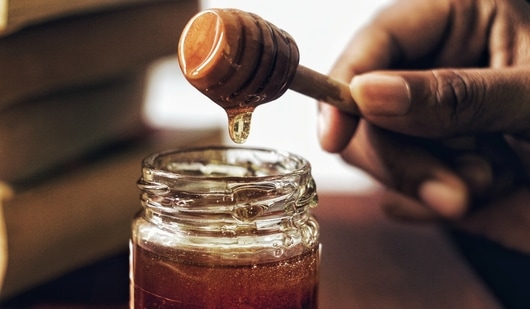 You can use it by dabbing honey at the affected area for a while but due to its sticky nature, it would be best to use it a few hours before a bath. Skin prone to excess oil can be subjected to honey - apply a layer of raw honey on the face and keep it for a while before washing it off.
Honey helps to make your skin glow and thanks to its antibacterial and antiseptic abilities, honey is considered to be the nature's most beneficial and all-rounder that also has boundless benefits for your skin. It has become an increasingly buzz-worthy ingredient in skin care routines.
In an interview with HT Lifestyle, Dr DM Mahajan, Senior Consultant Dermatologist at Apollo Hospital and Founder, Chairman of Dr Mahajan Skin Clinic in New Delhi's Hauz khas, highlighted the skincare usage of honey as:
1. Can be used as a lip exfoliator
Honey has all the goodness to make your lips supple soft in winters. All you just need to do is xix a teaspoon of sugar and a teaspoon of honey and apply over lips. Rinse after 20 minutes for pinkish soft lips.
2. Can be used for skin lightening and brightening
Honey has exfoliating properties, using it on your face can eliminate dead skin cells that make your skin look dull. This can reveal brighter skin. After washing your face, apply manuka honey or another variety of unpasteurized, raw honey to your face. Leave it on your skin for 10 minutes before rinsing off.
3. Can be used for acnes
Honey is a natural antiseptic and anti-inflammatory that helps to heal breakouts and prevent extra infections. Apply a thin layer of raw honey on the face. Leave it for 10 minutes, and then wash your face with normal water.
4. Can be used for fine lines
Honey helps to reduce wrinkles and fine lines. It soothes the dry, irritated and wrinkled skin by providing nourishment to it. You can make an anti-aging honey mask where you can mix a tablespoon of honey with an equal amount of papaya, whole milk, or yogurt. Apply the mixture to your face and leave it on for 30 minutes. Massage it so it can improve blood circulation and tightens the skin. Remove the mask with warm water and pat your skin dry with a washcloth.
Bringing her expertise to the same, Dr Blossom Kochhar, suggested:
1. Mash strawberries along with a tablespoon of cocoa powder and honey. Apply on the face for 15 minutes and wash off with warm water. It helps to make your skin glow and also makes it soft.
2. For a glowing skin cleanser, try a frozen facial scrub. Make a puree of a cucumber and add lemon juice to it. Add half a teaspoon of honey to it and pour it into an ice tray to freeze. Remember you don't have to make it into an ice cube rather let it sit for a minute so that it's like an ice slush. Now gently rub the ice slush on your face and neck. You can let the juice sit on your face for 5-10 minutes before rinsing it off with warm water.
3. For people with dry, itchy and flaky skin, this pack will heal your skin completely. Even if you don't have dry skin, using this pack can deeply nourish your skin and give it the glow that you want. Mix 1 ripe banana, 1 teaspoon besan, and 1 teaspoon of Honey in a bowl and leave it for 2 mins. Now apply the pack evenly on your face and neck and leave it on for 20 minutes. Rinse it off with normal water and pat dry it. Use the pack at least twice a week to get hydrated and moisturized skin.
4. Glow boosting pack – Clean your face with a gentle face wash and warm water. Dry out the apple peels and grind them completely. Take a spoon full of apple peel powder, and add a teaspoon of honey and rose water as required. Mix them to make a fine paste. Apply this pack once a week for an even skin tone.
5. Remove dead skin - Take a spoon full of orange peel powder and add 1 tablespoon of honey to it. Gently massage it all over your face, and don't forget your jawline. Make sure that you do not massage vigorously. Wash it with clean water; this will also help to clean your pores.