Miss Universe 2022: R'Bonney Gabriel of United States crowned 71st Miss Universe
Jan 15, 2023 01:02 PM IST
Miss Universe 2022: Miss USA R'Bonney Gabriel from Houston, Texas is the Miss Universe 2022. In the 71st edition of the pageant, Venezuela's Amanda Dudamel got up as first runner-up, and the Dominican Republic's Andreina Martinez came in for second place.
Miss Universe 2022: R'Bonney Gabriel from the USA is Miss Universe 2022. At the grand finale of the 71st Miss Universe contest, which took place on Sunday morning, Miss Universe 2021 Harnaaz Sandhu crowned the diva. In the 71st edition of the competition, Venezuela's Amanda Dudamel took second place, followed by Dominican Republic's Andreina Martinez as the second runner-up. Over 80 women from all over the world competed for the coveted title of Miss Universe during the three-hour competition, which was aired live on Saturday, January 14, from New Orleans' Ernest N. Morial Convention Center. (Also read: Miss Universe 2023: Who's Divita Rai, all you want to know about India's representative )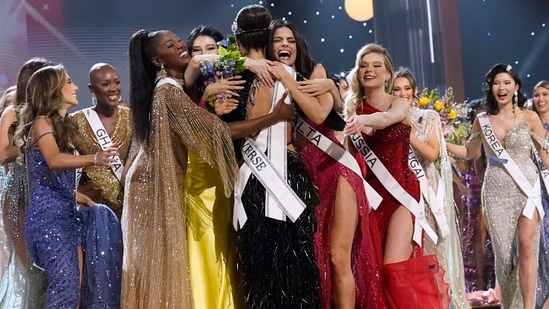 Divita Rai of India reached the top 16, but she was unable to advance further. India's participation in the 71st Miss Universe was restricted to the top 16 since she was unable to make it into the top 5. Nevertheless, she did the nation proud when she entered the final competition wearing a lovely pink dress and a gown.
In a gorgeous gown, Bonney Gabriel looked stunning at the Miss Universe 2022 competition. She was decked out in a crystal-covered gown and striking jewellery. As she received the title of her successor during the event, Harnaaz Sandhu, who won the title of Miss Universe 2021, sparkled brightly in a shimmering black dress with an intricate trail.
The winner of Miss Universe was 28-year-old Miss USA R'Bonney Gabriel, a fashion designer from Houston, Texas, who drove four hours to the pageant from her home. Her father is Filipino, while her mother is American. She stated that she wanted to use her title as Miss Universe 2022 to be a "transformational leader." After impressing the judges with her fiery bikini and cape, Miss USA wins the contest for the first time in eleven years.
It was the final question that sealed the faith of Miss USA 2022, she was asked, "If you win Miss Universe, how will you work to demonstrate this is an empowering and progressive organization?" and she replied, "Well, I would use it to be a transformational leader. As a very passionate designer, (having) been sewing for 13 years, I use fashion as a force for good. In my industry, I'm cutting down on pollution through recycled materials when I make my clothing. I teach sewing classes to women that have survived human trafficking and domestic violence. And I say that because it is so important to invest in others, invest in our community, and use your unique talent to make a difference. We all have something special, and when we plant those seeds (in) other people in our life, we transform them, and we use that as a vehicle for change."