Lohri 2023: Date, history, significance and celebration of Punjab's harvest festival
Jan 13, 2023 06:23 PM IST
Lohri, the popular North Indian festival, marks the end of winter solstice and the beginning of longer days. All you want to know about the history, significance and celebration of the festival.
Lohri 2023: It's that time of the year when winter is at peak and the only way to get some warmth in the evening is sitting by the bonfire amid fun conversation with your near and dear ones. Lohri, the popular North Indian festival, marks the end of winter solstice and the beginning of longer days. It is celebrated every year during the month of Paush, a day before Makar Sankranti - usually on January 13, with much fanfare especially by people of Punjab. The festival is also celebrated with much enthusiasm in other parts of the country such as Himachal Pradesh, Haryana and Jammu. (Also read: Lohri 2023: 6 traditions of the harvest festival you should know about)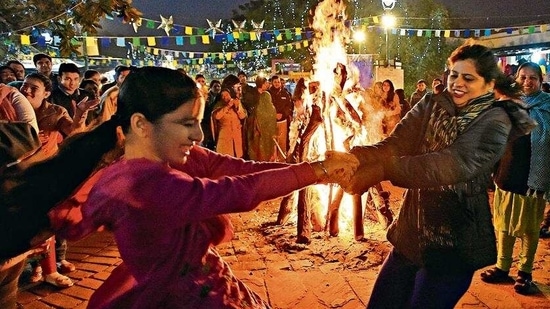 Lohri 2023 Date
This year Lohri will be celebrated on January 13 (Friday). Lohri celebrates harvest of rabi crop in North India and you would typically find gajak, revdi, popcorns, puffed rice and other traditional delicacies made of til (sesame seeds) in a Lohri thaal which is usually adorned with the fresh harvest. As per the legend, the word Lohri is believed to have originated from the word loh which is referred to tawa that's used to prepare roti or chapati.
Traditions and celebration of Lohri
Lohri has all the fun traditions which are much-awaited by people around this time of the year. Singing folk songs, dancing to the tunes of dhol, performing bhangra, gidda and chajja, relishing makki ki roti and sarson ka saag and munching gajak, moongfali, tilkut, puffed rice, revdi, popcorn by the bonfire are some of the popular Lohri rituals.
History and significance of Lohri
"Sundar Mundariye Ho, Tera Kaun Vichara ho, Dulha Bhatti Wala Ho"
Many of you may have heard this folk song during Lohri celebration. The story of Dulha Bhatti and two Punjabi girls Sundari Mundari came to be associated with the festival and are narrated by elders of the house. The legend of Dulha Bhatti dates back to 16th century during the reign of Mughal emperor Akbar. He was a dacoit who used to rob from rich and help poor with money and food. He is said to have been a brave warrior and helped common people and became very popular in Punjab. The festival of Lohri is said to commemorate Dulha Bhatti's bravery and his resistance against the tyranny of the Mughal rulers. During Lohri festivities, bonfires are lit, sweets are exchanged sweets, and traditional Punjabi folk songs and dances are performed in honour of Dulha Bhatti.