Expert says Covid can cause permanent heart damage, suggests preventive measures
Updated on Mar 12, 2022 12:26 PM IST
The Covid-19 virus can damage the heart in several ways. Here's what you can do to prevent heart issues post Covid.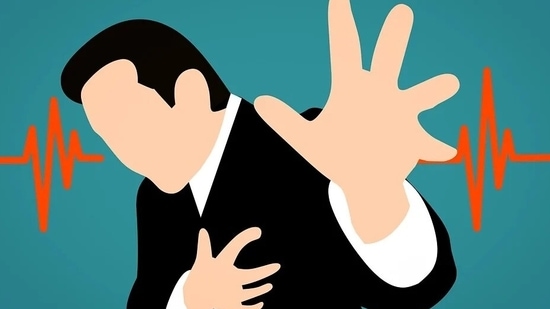 Even as the wave of Covid-19 infections recedes, the devasting post Covid syndrome is impacting people's health in a big way. Covid's impact on heart has especially become a cause of concern for the patients as some recent studies show how the virus' effect on heart can last for at least one year post the infection or even longer. (Also read: Do we need to worry about post Covid heart complications in kids? Expert take)
A study published in Nature Medicine found that the illness increased the possibility of heart rhythm irregularities and potentially deadly blood clots in the legs and lungs in a year after an acute infection.
According to Dr Rajpal Singh, Director and Interventional Cardiologist, Dept of Cardiology, Fortis Hospitals Bannerghatta Road, Covid may have an irreversible effect on heart.
"Despite common belief, there is strong evidence that Covid has a long-term and irreversible effect on the heart in approximately 20-25 percent of acute instances throughout recovery," he says.
Explaining the symptoms of heart trouble post Covid, the expert says, "Breathlessness, chest pain, palpitations/collapse, or giddiness are frequent heart failure symptoms, with cardiac failure, cardiac arrhythmias, and sudden cardiac death are the most common outcomes."
Who's more at risk?
"A person with a heart vulnerable to disease and infection is more likely to succumb to fever, low oxygen levels, unstable blood pressures, and blood clotting disorders — all possible consequences of Covid-19— than someone suffering solely from heart disease," say Dr Brajesh Kunwar, Director-Interventional Cardiology, Fortis Hiranandani Hospital Vashi and Dr Zakia Khan, Senior Consultant-Interventional Cardiology, Fortis Hospital, Kalyan.
How Covid-19 can impact heart in multiple ways
The Covid-19 virus can damage the heart in several ways, as per Dr Kunwar and Dr Khan. It also increases the risk for heart failure by 72%, heart attack by 63% and stroke by 52% — even among those whose original illnesses were mild.
* The virus may directly invade or inflame the heart muscle
* It may indirectly harm the heart by disrupting the balance between oxygen supply and demand.
* Heart injury, which may be measured by elevated levels of the enzyme
* Troponin in the bloodstream, has been detected in about one-quarter of patients hospitalized with severe Covid-19 illness across the globe.
How to assess your risk of cardiac complications post Covid
Monitoring cardiac biomarkers such as Troponin, ProBNP, and D-Dimers, as well as ECG and echocardiographic data, can help identify patients who are at a high risk of developing post-Covid cardiac issues.
Ambulatory holter monitor; blood thinners and anticoagulants
"In certain cases, a 24-48 ambulatory holter monitor may be recommended. Some persons in recovery are also more prone to develop POTS (postural orthostatic tachycardia syndrome), which causes an increase in heart rate, brain fog, and light-headedness, according to studies," says Dr Singh.
"However, the use of blood thinners and anticoagulants early in the treatment process may help to prevent and manage these problems. If any of these symptoms are noticed in recovering Covid patients, it is crucial to seek medical attention right away rather than waiting it out or trying home remedies," he adds.
In nutshell, people should not be in a hurry to return to their normal schedule and intense exercise routine. Watch out for symptoms that indicate trouble for your heart and consult expert if you need to.