Hormone therapy for cancer: How it is performed, know benefits and side effects
Feb 04, 2023 07:45 PM IST
Hormone therapy is an effective technique to stop or slow cancer growth and is recommended to treat certain kinds of cancer like breast cancer, prostate cancer and endometrial cancer. All you want to know.
Hormone therapy is an effective technique to stop or slow cancer growth and is recommended to treat certain kinds of cancer like breast cancer, prostate cancer and endometrial cancer. In case of prostate cancer hormone therapy may be used to prevent symptoms in men who are not able to have surgery or radiation therapy. Hormone therapy is effective in treating cancers like that of breast and prostate that use hormones to grow. The types of treatment that you need depend on the type of cancer, if it has spread and how far, if it uses hormones to grow, and if you have other health problems. (Also read: World Cancer Day 2023: Top 4 deadliest cancers in India and their symptoms as per oncologists)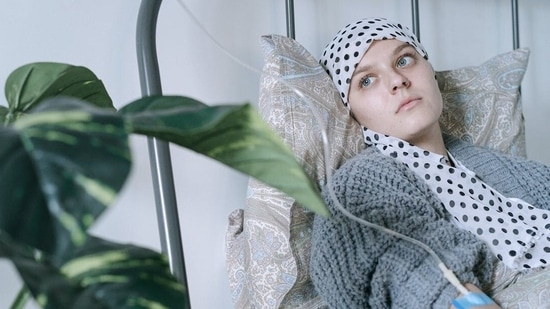 What is hormonal therapy
"Oestrogen and testosterone-dependent cancers like breast cancer, ovarian cancer and uterine cancer rely on oestrogen and testosterone to develop and grow. To treat this type of cancers, hormone therapy is recommended as a treatment that slows down or stops the progression of cancer. It is also known as hormonal or endocrine therapy. The therapy involves taking medications that block the production of hormone in the body to grow further. The gland that produces the hormones may occasionally need to be surgically removed as part of hormone therapy," says Dr Vinay Samuel Gaikwad, Department of Oncology, CK Birla Hospital (R), Gurugram.
Hormone therapy can be performed in different ways:
• Oral medication: The patient can be prescribed with syrup/ pills that can be consumed at home.
• Injections: Some medications used in hormone therapy are given through injections. The medical condition determines how frequently these must be taken. It could be once a month or once every six months.
• Surgery: In some circumstances, surgery is performed to remove the organ or gland that produces the hormones the cancer cells need to thrive. For instance, the ovaries can be removed to prevent them from producing oestrogen in cases of breast cancer.
Who is eligible for getting hormone therapy for cancer?
"Hormone therapy is often used after surgery to eliminate hormone-sensitive cancer cells that have the tendency of cancer coming back. A patient's symptoms can also be reduced with hormonal therapy (such as pain from a large tumour). These treatments help in the elimination of cancer cells. It is also recommended for patients who cannot undergo surgery or other cancer therapies because of the health condition," says Dr Gaikwad.
What cancers are treated with hormone therapy
The three forms of cancer that are usually treated with hormone therapy are breast, prostate, and endometrial cancers.
Breast cancer: The growth of breast cancer frequently depends on two hormones - oestrogen and progesterone. A tumour is referred to as 'hormone receptor-positive' if it has receptors that these hormones can bind to. These can be blocked to reduce the risk of breast cancer recurrence.
Prostate cancer: Androgen hormones like testosterone are often what fuel prostate cancer growth. Hormone therapy is performed to reduce the androgen levels which helps in slowing the spread of cancer.
Endometrial cancer: Hormone therapy is often only used in advanced cases of uterine or endometrial cancer or when the disease has come back after being treated.
What are the benefits of hormone therapy
According to Dr Gaikwad, when used with other treatments, hormone therapy can help in:
- Making the tumour smaller before surgery or radiation therapy
- Reducing the risk of cancer recurrence
- Destroying cancer cells that have returned or spread to other parts of the body
What is the success rate of hormone therapy for cancer
Hormone therapy can reduce the tumour in 85% to 90% of cases of advanced prostate cancer. However, hormone therapy for prostate cancer is not permanent solution as some cancer cells do not require hormones to develop, as per the expert.
Side effects of hormone therapy
There are a few side effects that patient may experience depending on the type of hormone therapy they are receiving or other factors. Some common side effects are:
• Nausea
• Vomiting
• Osteoporosis, a loss of bone, and an increased risk of bone fractures
• Headaches
• Mood shifts
• Diarrhea
• Skin rashes
• Weight Gain
• Fatigue
• Muscular mass loss
"When it comes to treating cancer, hormones might not be the best treatment option as hormones can feed some cancers, causing them to grow and spread more quickly. However, to make the therapy effective and reduce the risk of side effects, a person must exercise regularly to avoid weight gain, weariness, and insulin resistance, as well as bone loss, muscle loss, and insulin resistance," concludes Dr Gaikwad.