Increase in orthopedic injuries in summer: Experts explain
Updated on Jun 28, 2022 01:13 PM IST
From swimming injuries to road accidents to knee injuries, experts point out the many causes of increase in orthopedic injuries in summer.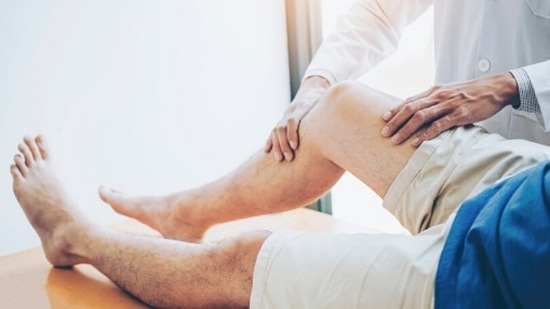 It has been observed by experts that orthopedic injuries have increased in this summer. The experts have also pointed out multiple reasons for the same. Speaking to HT Lifestyle, Dr. Yuvraj Kumar, Chairman - Orthopaedics, Joint Replacement & Sports Injury, Accord Super Speciality Hospital, Faridabad said, " This increase in orthopaedic injuries can be attributed to multiple reasons. Primary among these is heightened outdoor activity post covid as during the last two years people have been largely indoor and avoiding contact sports. Due to waning of covid people have stepped out in large numbers and have indulged in hard sporting activity without their body being acclimatised or ready to bear the load which comes with contact sport."
Dr Yuvraj Kumar further added, "Even during the night time of summer months people are more active and seem to be involved in high-risk behavior prone to injuries. Besides, all around the world summer vacations are the time when a lot of people with their families travel to far off places through different means of transport to have some good time. The greater number of people on the road will definitely lead to more roadside accidents, people also indulge in adventure sports which exposes them to injuries."
ALSO READ: What is orthopedic trauma and how it can be treated
Dr. Dhananjay Gupta, Director and Senior Consultant, Orthopedics and Joint Reconstruction and Replacement Surgeon, Fortis Hospital, Vasant Kunj, Delhi noted down the main reasons for orthopedic injuries in summer. They are:
Road side Accidents: Due to excessive heat during the day, people like to go out for road running and cycling earlier, preferably just before dawn and are run over by erratic drivers especially cabs and transport vehicles.
Swimming Injuries: Swimming pools in North India are open only from April to September. Being one of the life skills, every child is encouraged to go and learn swimming. Fatal accidents are seen more in head injuries in diving board mishaps, drowning in open river or ponds, orthopaedic injuries are mainly due to shoulder overuse or misuse.
Knee Injuries: Contact sports like football and basketball are being played more in summers and players presenting with knee injuries are often seen in ER. Ligament injuries are commonly seen and signifies loss of season for these players. Road runners have more of impact injuries like early cartilage wear especially of patella.
Ankle sprains: One of the commonest injuries, can happen in any sports, any activity or surface. Good footwear and knowledge of surface on which we are walking or running is important to avoid the sprains.