Is it flu or Covid-19? Experts on how to differentiate between the symptoms
Jan 13, 2023 03:22 PM IST
Flu and Covid-19, both being respiratory illnesses, have a lot in common in terms of symptoms and way of transmission. Here's how you can know the difference between their symptoms.
Flu and Covid-19, both being respiratory illnesses, have a lot in common in terms of symptoms like fever, cough, sore throat, difficulty breathing, and how they are transmitted - through cough, sneeze or touching an infected object. So, you may not initially know if you are suffering from flu or Covid-19. The best way to know for sure is to get tested without delay. The primary difference between the two is that the flu and Covid-19 are caused by difference viruses. Covid-19 is caused by the SARS-CoV-2, while influenza viruses are responsible for flu. Flu may cause severe symptoms in elderly while Covid-19 can lead to severe disease even in those who are not in vulnerable group. Covid can infect a greater number of people than flu and the symptom onset is slightly slower. Good thing is there is a vaccine for both the infections and one must get their shots to prevent these infections. (Also read: Common Covid symptoms in fully vaccinated people you should know about)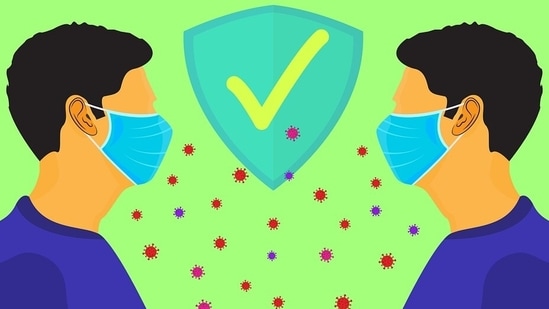 We spoke to experts on difference between flu and Covid-19 symptoms and here's what they said.
Stay tuned with breaking news on HT Channel on Facebook.
Join Now
"The flu and Covid-19 are both respiratory illnesses, but they are caused by different viruses. Symptoms of the flu and Covid-19 can be similar, such as fever, cough, and fatigue, but there are some key differences. The flu typically causes more severe symptoms in the elderly and people with underlying health conditions, whereas Covid-19 can cause severe illness in people of all ages," says Dr Shalini Joshi, Senior Consultant-Internal Medicine, Fortis Hospital Bannerghatta Road, Bangalore.
Different viruses
"Covid-19 and flu (Influenza) are contagious illnesses of the respiratory tract. They differ from each other in several aspects. These are caused by two different viruses, i.e., SARS CoV-2 and influenza virus, respectively," says Dr Rohit Kumar Garg, Consultant, Department of Infectious Diseases, Amrita Hospital, Faridabad.
Loss of taste or smell
Dr Joshi says Covid-19 can cause loss of taste or smell, which is not a symptom of the flu.
"Although symptoms such as fever, cough, sore throat, body aches, headache, fatigue, vomiting, diarrhoea etc. are usual and common to both, COVID patients may also experience loss of smell, loss of taste," says Dr Garg.
Symptom onset
"The time period from viral exposure to symptoms onset is shorter for flu (1-4 days) and somewhat longer for Covid (2–14 days). The exposed person starts spreading the SARS CoV-2 virus 2–3 days before symptoms onset, whereas in the flu, patients start spreading 1 day before symptoms," says Dr Garg.
Which is more contagious?
"Patients remain infective for a longer duration after Covid than flu. SARS CoV-2 virus is more contagious than flu virus, i.e., it can infect many patients at a time, whereas only 1-2 patients at a time in case of flu," says Dr Garg.
Symptoms and complications in Covid-19
"A Covid patient may also experience the formation of clot in blood vessels and cytokine release syndrome, in addition to other complications such as pneumonia, respiratory failure, multi-organ dysfunction, or sepsis etc. A Covid patient may experience symptoms such as cough, fatigue, shortness of breath, a high pulse rate, poor appetite, etc. for a long time after recovery from an acute illness," says Dr Garg, adding, "SARS CoV-2 virus can cause serious complications even in healthy individuals, unlike the flu, which cause serious complications usually in patients with comorbid conditions."
"It's crucial to take the appropriate precautions to protect yourself and others from both viruses, the best way to prevent both is to get vaccinated, and practice good hygiene, such as washing your hands frequently and avoiding close contact with sick people. Flu (Influenza) is caused by a virus and most people recover on their own but it can lead to serious problems in high-risk patients. Therefore, we recommend yearly Influenza vaccination for elderly people, people living with chronic health diseases like diabetes, liver and kidney issues or weak immune systems. Consultation with a doctor is advised because the symptoms are quite similar. It is important to conduct appropriate tests for diagnosis and early treatment should be started by the health care professionals," says Dr Shalini Joshi.
"There are specific antiviral treatments and vaccines for SARS CoV-2 and influenza viruses. Despite these differences, the key preventive strategies, i.e., social distancing, use of face masks, cough etiquettes, hand cleanliness, and vaccination, remain the same for both due to similarity in mode of transmission and route of infection, as well as the availability of effective vaccines against both of them, says Dr Rohit Kumar Garg.