Shilpa Shetty drops workout video revealing mantra to achieve your dream physique, sets Monday Motivation goals. Watch
Jan 30, 2023 10:51 AM IST
Shilpa Shetty took to Instagram today to share a workout compilation video of herself with a mantra to achieve one's dream physique. The post is all the Monday motivation you need. Check it out inside.
Actor Shilpa Shetty dropped a workout compilation video on Instagram today, and Monday motivation never looked better. The star took to the social media app to reveal the mantra she follows to keep her body fit and healthy. She said the key to staying fit like her is to remain consistent with your workout routine, daily habits, and healthy diet. Keep scrolling to see Shilpa exercising at the gym, and read her detailed caption to gain some inspiration before hitting the gym today. (Also Read | Shilpa Shetty never stops training even when she is on set, drops new workout video as proof. Watch here)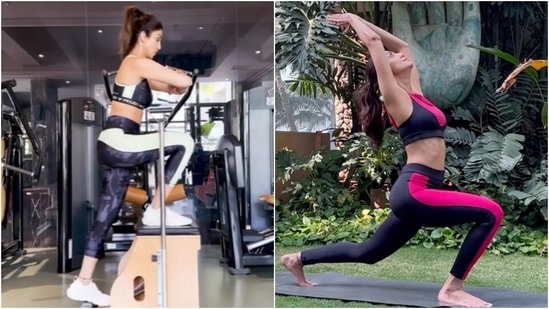 Shilpa Shetty's Monday motivation for fans came like this
On Monday, Shilpa Shetty dropped a workout video featuring the star doing several exercise routines, including weight training, cardio, yoga, Pilates, and more. She also penned a long note in the clip's caption, revealing the mantra to achieve your dream physique and health goals. "Consistency, dedication, discipline, and effort are the four pillars upholding one's goal of achieving all their dreams...including the dream of a healthy and fit body. Modifying your daily habits and switching over to a healthy and regulated lifestyle is a must. Put in the hard work regularly and you WILL eventually see the difference," Shilpa wrote.
Shilpa added that getting the dream physique shouldn't be the end goal. One should strive to stay regular with their schedule to maintain that lifestyle. "But, achieving your dream physique isn't the end of the road. You have to be consistent to maintain it. Remember that this mantra won't give you instant or quick results, but it'll be absolutely worth the effort you put in over a period of time. Happy Monday," she wrote.
The video begins with Shilpa practising Dumbbell squats, Deep Lunges and Runner's Stretch, Barbell Lunges, Headstands, Surya Namaskar, a fun dance routine, Pilates on Cadillac Reformer, Deep Lunge Stretch with Raised Hands, and Sukhasana yoga pose. The post showed all the exercises Shilpa tries to cover while hitting the gym.
So, are you trying these exercises at the gym today?