Shilpa Shetty never stops training even when she is on set, drops new workout video as proof. Watch here
Jan 16, 2023 01:58 PM IST
Shilpa Shetty never misses a day of training, even when she is working on set, and she shared a new workout video to prove the same. The star did an easy yoga routine in the clip and shared the correct steps to nail it. Watch it inside.
Nothing can stop Shilpa Shetty from hitting the gym to her heart's content. Shilpa loves working out even when she is on the set for a shooting schedule, and her latest video is proof enough to back our claim. The actor dropped a clip in which she practised an easy yoga asana known for its various benefits - the Bird-dog Pose - and can be easily done at home. She also shared the key points and steps to keep in mind while doing the asana. Keep scrolling to know more details. (Also Read | Sara Ali Khan's '2023 fitness resolutions are stronger than her excuses' and this intense workout video is proof. Watch)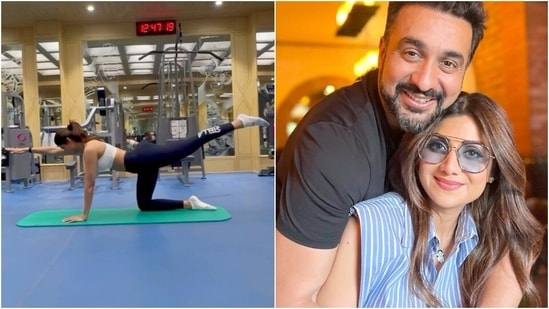 Shilpa Shetty never stops training
Today, Shilpa Shetty drove away our Monday blues by dropping an easy and beneficial yoga asana to practice at home. The video begins with Shilpa sitting on her fours in a tabletop position. Then, she engages her core and lifts the opposite leg and arm parallel to the floor, repeating the move two times on each side. Shilpa does the same pose again. However, this time she moves her arm and leg in up-down movements. In the end, Shilpa did one set of the Cat-Cow asana to complete the routine. Watch the video below.
Shilpa shared the video with the caption, "No excuses even while I'm on set, training continues. This routine is called Bird-Dog." She also mentioned the yoga pose benefits "It strengthens the core, glutes, shoulders, and arms. It works on improving balance."
The actor also mentioned the correct posture and steps to do the routine. "To get the form right, ensure you're in a quadruped position with your hands exactly under the arm pits, knees are under the hips, the core is tight, back is neutral, chin is tucked in, and your neck is aligned with the back," she wrote.
Shilpa added, "Raise opposite arm and leg (right arm with left leg and vice versa) just parallel to the floor. Ensure you keep the core tight so as to not lose balance. Hold for a second, then change. Move your limbs up & down for 5 counts, and then switch. Make sure you do not tilt your pelvis to any one side. Pelvis should be neutral."
So, are you ready to start the week like Shilpa Shetty?