What is doomscrolling, the term world searched for in 2021 amid Covid pandemic?
Dec 18, 2021 12:37 PM IST
Did you Google "doomscrolling" or maybe "doomsurfing" any time this past year? If so, you're far from being alone. Here is some interesting information on what the world's most searched term in 2021 amid Covid-19 pandemic means, it's impact and how to stop it
As another year wraps up, search engine Google released its "Year in Search" report which basically comprises a summary of all the things that people wanted to know in the current unforgettable year and it was found that "doomscrolling" was what everyone was Googling this year across the world. As per the company's Google Trends newsletter, "In 2021, doomscrolling was searched more than ever globally."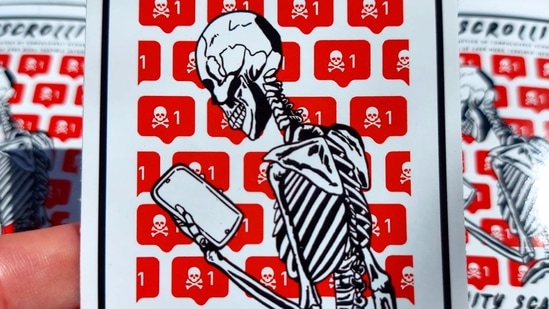 What does the term "doomscrolling" means?
Doomscrolling and doomsurfing are new terms added to dictionaries across the world. According to dictionary.com, Doomscrolling or doomsurfing is "the practice of obsessively checking online news for updates, especially on social media feeds, with the expectation that the news will be bad, such that the feeling of dread from this negative expectation fuels a compulsion to continue looking for updates in a self-perpetuating cycle."
The fear of the unknown amid Covid-19 lockdowns triggered this tendency to continue to scroll through or surf bad news without the ability to stop or step back, despite the news being saddening, disheartening and even depressing.
Doomscrolling describes that very feeling of not being able to stop scrolling down article after article, looking for answers or reading news that we know will make us sad, anxious or angry. The term became one of the Oxford dictionary's words of the year for 2020 and Mark Barabak from The Times, defined doomscrolling as "an excessive amount of screen time devoted to the absorption of dystopian news."
Impact of doomscolling:
Needless to say, it has had a negative impact on our mental health as the overconsumption of information regarding the coronavirus pandemic, employment, social inequality and the constant waves of hearing about loss drove stress and anxiety among the global audience.
How to stop doomscrolling?
A report by World Economic Forum revealed that it is important to stay informed and know what's happening in the world but we can't constantly be on it. Hence, those reading the news should allow themselves some time and give themselves the permission to read or consume news maybe half an hour in the morning, some time during the day and then at night.
One can decide whether or not this is helpful. Doomscrolling cycle revs up again at night when people are vulnerable, tired, want to unwind and end up surfing and scrolling through news addictively without being able to stop, which in turn messes up their sleep cycle.
The trick is to be more alert and attuned to oneself, put down the phone and refocus one's energy on meaningful stuff that is value driven and aligned with how one wants to be living their life. Ask yourself, "If we're not using our phone, what would we be doing?" and once this awareness is triggered, it could lead to another space of curiosity where one could be using that time instead to read or bake or work out.