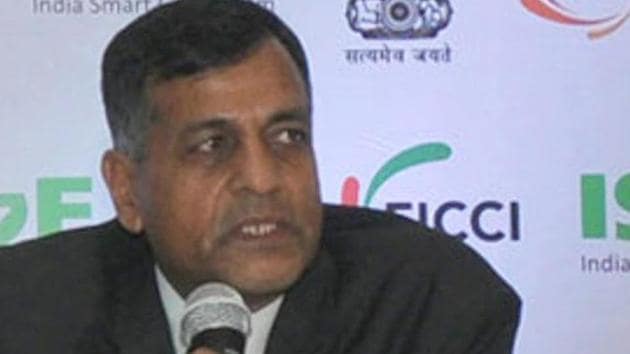 Amid row on dissent, EC meet on Tuesday
The meeting, which will take place two days before the ECI oversees the counting of votes from the marathon general election
PUBLISHED ON MAY 19, 2019 02:31 AM IST
The Election Commission of India (ECI) will meet on Tuesday to discuss election commissioner Ashok Lavasa's demand for the inclusion of any dissenting opinions in the final orders the poll watchdog passes on complaints about violations of the Model Code of Conduct (MCC).
The meeting, which will take place two days before the ECI oversees the counting of votes from the marathon general election, was announced in a follow-up to a statement released by the office of chief election commissioner Sunil Arora on Saturday to defuse a controversy stemming from media reports on Lavasa's demand. "It needs to be clarified categorically and unambiguously that this is purely an internal matter of ECI and as such any speculation, innuendoes and insinuations in this regard should be eschewed," the follow-up statement said.
"It also needs to be mentioned that a meeting had already been scheduled on Tuesday, i.e., 21.5.2019 to discuss this and related matters."
Lavasa has recused himself from meetings of the three-member ECI pertaining to complaints on MCC violations until his demand for inclusion of the minority decision in the Commission's final order is met.
He has dissented on clean chits the ECI handed to Prime Minister Narenda Modi and Bharatiya Janata Party (BJP) president Amit Shah in disposing of complaints of MCC violations made by opposition parties.
Modi faced nine complaints of violating the MCC and Shah two. In each case, the ECI cleared them of any wrongdoing, inviting criticism by opposition parties that the poll watchdog was being soft on the two top leaders and star campaigners of the
BJP.
"The Election Commission or Election Omission! Another Dark Day for Democracy. Sh Ashok Lavasa, Member CEC, who dissented on multiple occasions when EC was busy giving clean chits to Modi-Shah duo, opts out of EC as the ECI even refused to record dissent notes," Congress spokesperson Randeep Singh Surjewala tweeted on
Saturday.
To be sure, the ECI did ban Uttar Pradesh chief minister Yogi Adityanath, another star BJP campaigner, from electioneering for 72 hours last month for saying at an election rally: "If the Congress, SP (Samajwadi Party) and BSP (Bahujan Samaj Party) have faith in Ali, we have faith in Bajrang Bali; the followers of Bajrang Bali will not tolerate them." Ali and Bajrang Bali, another name for the Hindu god Hanuman, were used as representations of Muslims and Hindus,respectively.
ECI has received around 500 complaints of violations of the MCC against political parties and their candidates since March 10, when the code kicked into force with the announcement of the seven-phase election schedule that concludes with voting in 59 constituencies on
Sunday.
The MCC lays down rules for political parties, candidates and governments to abide by during the election period. and concludes with the declaration of results.
The votes from the Lok Sabha elections are to be counted and results declared on May
23.
Chief election commissioner Arora's first statement said the ECI had decided to forms groups to discuss issues that arose during the Lok Sabha elections, including compliance with the MCC, which has emerged as a contentious issue. "During the last meeting of the Commission on May 14, it was unanimously decided that some groups shall be formed to deliberate the issues, which arose in the course of conduct of Lok Sabha Elections, 2019 just as it was done after Lok Sabha elections of 2014," Arora said in the statement.
Close