Even as politician, he is 'Vijender Singh, the Boxer'
At his main campaigning office in Andaz Garden, Vasant Kunj, a big poster adorns the entrance which says 'Vijender boxer' beneath his image. At the Sultanpur meeting, the words 'boxing champion' are written in brackets besides his name. The local Congress leader Rajendra Khatana enthusiastically calls on him to deliver a 'knockout punch' to his opponents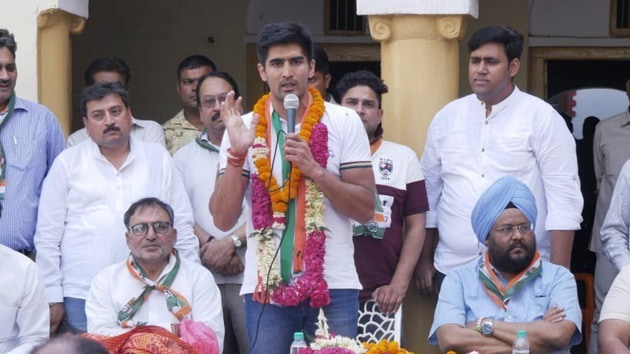 Updated on May 10, 2019 11:16 PM IST
'Netaji aa gaye kya?' Ramesh Jakhar, 50, asks, throwing a glance at the half-filled rows of chairs in Sultanpur Colony market near Mehrauli, before proceeding hurriedly with two packets of milk and a loaf of bread. At 8:15am on a Sunday morning, his priorities are set.
On the dais is Olympian Vijender Singh. It's been just two weeks since the 2008 Beijing Olympics bronze medallist made his maiden foray into politics, fighting from South Delhi on an Indian National Congress ticket.
The meeting in Sultanpur is the first of the many that Vijender would attend throughout the day. A week before Delhi goes to polls on May 12, the boxer says he is looking to cover every nook and corner of his constituency.
Vijender, the political newbie, is trying hard to connect with the people. "Thank you everybody who have come here today and to those who have not come. I understand it's a Sunday morning in peak summer. I am humbled by the love shown by you all," Vijender says.
In his campaign, his sporting prowess takes centrestage.
At his main campaigning office in Andaz Garden, Vasant Kunj, a big poster adorns the entrance which says 'Vijender boxer' beneath his image. At the Sultanpur meeting, the words 'boxing champion' are written in brackets besides his name. The local Congress leader Rajendra Khatana enthusiastically calls on him to deliver a 'knockout punch' to his opponents, which includes Bharatiya Janata Party candidate and sitting MP Ramesh Bidhuri and Aam Aadmi Party's Raghav Chadha.
The fact that his credibility lies in his reputation as a boxer and not anything close to politics is not lost on him.
"Boxing made me what I am today. It will be hard to balance politics and sport but I will manage," Vijender says.
He leaves the Sultanpur meeting in a hurry as he is running late for his next meeting in Gadaipur, a village in Mehrauli. His white SUV comes to a halt near a small plot where he is supposed to meet the local residents. At the entrance, overflowing water from a nearby sewer emanates a foul smell.
"This is real India. I want to change this. India is a lot different from the big ads that we see about digitisation and all that.Neeche ki sacchayi alag hai. From Sangam Vihar to Badarpur, go to any cluster, water is a big issue. Pollution is another issue. Basic needs should be fulfilled before talking about Digital India," Vijender says, before engaging in a conversation with a small gathering of 25 to 30 people.
Before some of the more star-struck of them can ask for a photo, Vijender is off to his next destination, Bhim basti.
Vijender's constituency has some of Delhi's poshest areas, but also a cluster of villages.
The roads leading to those places are narrow. Some are seeing Vijender for the first time.
"I have come from a small village. The way they look at me, I used to look at the political leaders as a kid. They are like me. They have problems because of the false promises. I don't want to make tall claims. I will only promise what I can deliver," he says. "Whatever I am, I am. I am not wearing a mask. I have seen poverty, I have seen riches too. I am in South Delhi which has a rich class too. The 'Hi, how are you doing' type, I can engage with them. And then there are those from humble backgrounds. They should be the ones who should be looked after."
"V for Vijender. V for victory," he declares at a newly-constructed park where a crowd has gathered braving the sun. Local leader Ved Pal adds: "We must feel privileged that a world-famous boxer is amongst us. If he comes to power, we can expect that he will provide the youth with good facilities to pursue sport."
Facilities for sports and safety for women are two aspects Vijender is canvassing about. "I have met several district-level, state-level boxers during campaigning who have complained about lack of facilities. I can't promise a world-class facility but at least basic equipment. I would also like to start self-defense classes for women," he says.
The one aspect of campaigning that has him on the canvas? His diet. Till a month back, he was a full-fledged athlete, on a strictly designed diet, living and training in Los Angeles before his pro debut in the US on April 12 got postponed due to an injury.
"My diet has gone for a toss. I came here after a heavy breakfast but don't know when I will have my lunch. Yesterday, I had lunch at 5pm. If any aunty offers me parantha or laddoo out of love, I eat that. That is my diet these days. I get sleep for maximum four hours," he says.
As his meeting in Bhim Basti ends, there is a rush among kids to take selfies. Vijender obliges.
Close Story
Personalise your news feed. Follow trending topics