PM Narendra Modi files Varanasi nomination, top NDA leaders join in show of strength
Updated on May 05, 2020 08:34 PM IST
PM Modi filed nomination papers on Friday morning in presence of senior NDA leaders, including Bihar chief minister Nitish Kumar, Shiv Sena chief Uddhav Thackeray, AIADMK leaders, Shiromani Akali Dal leader Prakash Singh Badal, Lok Jan Shakti's Ram Vilas Paswan, many Union ministers and chief ministers.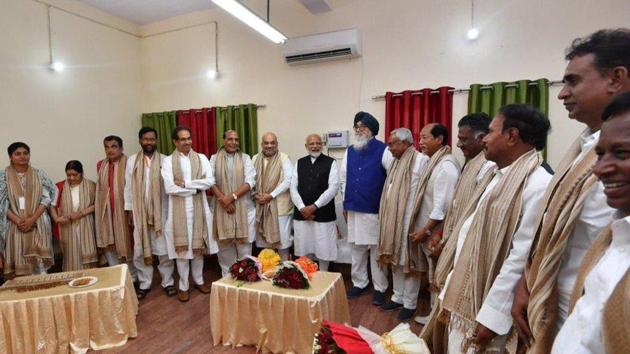 Prime Minister Narendra Modi filed his nomination papers for the Varanasi parliamentary seat on Friday in the presence of senior leaders of the National Democratic Alliance (NDA), appealing to the electorate to avoid complacence that he had already won and make certain that they turn out to vote on May 19, the seventh and final phase of the 17th general election.
"Some people have started creating an atmosphere that Modi ji has won (the election from Varanasi). Aise logon ki baaton me mat aiye (Please don't trust the words of such people). Voting is your right. Do cast your vote for strengthening democracy and making a strong government," Modi said in a message directed at local voters.
In a brief interaction with journalists after filing his nomination papers, Modi thanked the people of Varanasi, tens of thousands of whom turned up at his roadshow in the city on Thursday, "for their love and affection".
"They resolved for a bright future for India. I am indebted to them for their love," he added.
Modi, 68, filed his nomination documents at the collector's office, where Bharatiya Janata Party (BJP) president Amit Shah, and Union ministers Rajnath Singh, Sushma Swaraj, Piyush Goyal, Nitin Gadkari were in attendance.
Uttar Pradesh chief minister Yogi Adityanath, Akali Dal chief Parkash Singh Badal, Bihar chief minister Nitish Kumar, Shiv Sena chief Uddhav Thackeray, Lok Janshakti Party (LJP) chief Ram Vilas Paswan and All India Anna Dravida Munnetra Kazhagam (AIADMK) leaders from Tamil Nadu were also present.
Watch : PM Modi files nomination from Varanasi; accompanied by ministers, allies
Prime Minister Narendra Modi declared an income of ₹19.9 lakh in his income tax return for the financial year 2017-18. His movable and immovable assets add up to ₹2.51 crore. These include fixed deposits worth ₹1.27 crore with the State Bank of India and a plot in Gandhinagar with a built up area of 170 square feet, worth ₹1.1 crore. Modi has furnished these details in his affidavit filed along with his nomination papers as the candidate for Varanasi.
A comparison with his 2014 affidavit shows that while his movable assets have more than doubled in five years, the value of immovable assets has only increased by ₹10 lakh. There are no outstanding debts or criminal cases against him. He has not declared any dependents as well.
Prof. Annapurna Shukla of the Mahila Mahavidyalaya, senior BJP leader Subhash Gupta, retired scientist Ram Shankar Patel,and Jagdish Chaudhary, a scion of the Doms who have traditionally presided over the last rites of people brought to Varanasi for cremation, signed as proposers of Modi's candidacy in the nomination papers.
"In getting proposers from different caste and social groups, Prime Minister Narendra Modi has made an effort to represent the composite culture of Banaras," said KK Mishra, a professor of political science at Banaras Hindu University.
Modi touched the feet of Badal and Shukla before filing the papers.
The Congress said Modi's comments and the gathering of alliance partners while he filed his nomination reflected unease in the BJP camp. "He (Modi) is sure that he will not get a mandate on his own, so he gathered all the coalition partners. His self confidence is weakening that he can form a government on his own and that is why he is showing more confidence on alliance partners than on himself," Congress spokesperson Rajiv Shukla said.
The Prime Minister started the day with a visit to Assi Ghat, where he took a boat ride, and then drove to a conference of BJP workers in the city where he delivered a pep talk. He then went to a nearby government primary school and interacted with students.
Modi also drove to the temple of Kaal Bhairav, known as the custodian of Kashi, and offered a prayer to the presiding deity amid chanting of Vedic mantras by a group of priests. He waved to the crowd waiting outside the temple and headed to the collectorate, stopping his car briefly outside the temple to shake hands with a five-year-old girl, Adya Shri.
Modi on Thursday sought the permission of the people of Varanasi to file his nomination papers, saying he wouldn't do so unless they wanted him to. Chanting "Modi, Modi," the crowd roared its approval. The PM said his election would mean the election of every person of Kashi, as Varanasi is known, and he would return to seek the blessings of its people after the poll.
Varanasi is an important seat of Hinduism and holds great significance in the politics of eastern Uttar Pradesh. Modi decided to contest Varanasi, apart from Vadodara in his home state of Gujarat, in the last parliamentary elections to revive the BJP's fortunes in the country's most populous state, which sends 80 lawmakers to the Lok Sabha, more than any other state.
In the contest this time, Modi confronts Ajai Rai of the Congress who finished third in the 2014 election to the same seat with 75,614 votes to the former's 581,022 votes. Aam Aadmi Party (AAP) chief Arvind Kejriwal was the runner-up in 2014, losing by a margin of 371,784 votes to Modi.
.
Personalise your news feed. Follow trending topics