Lok Sabha Elections 2019: Congress veteran Sushil Kumar Shinde back in fray in Solapur constituency
Hindustan Times, Pune |
Yogesh Joshi and Shrinivas Deshpande
Mar 15, 2019 02:54 PM IST
Small scale industries and beedi manufacturing units are a big part of this rural-dominated Solapur Lok Sabha constituency. Workers have not recovered from 2016's demonetisation.
Former Maharashtra chief minister Sushil Kumar Shinde has been named Congress candidate from the Solapur Lok Sabha constituency for the Lok Sabha elections.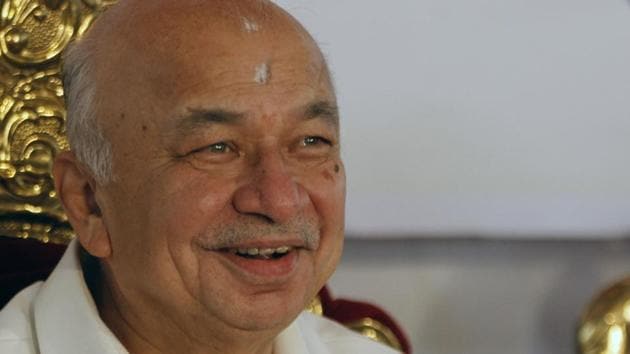 Like the Pawars in Baramati and the Vikhe-Patils from Ahmednagar, the Shindes wield the political clout in Solapur; even post Sushil Kumar's loss in the 2014 Lok Sabha elections to BJP's Sharad Bansode, a one-time Marathi film actor and present-day advocate.
Bansode rode the Modi wave of 2014 to do what, at the time, seemed impossible - he defeated Shinde by a margin of 1.5 lakh votes.
Five years later, Shinde is back. On Wednesday, the 77-year-old veteran was one of five name on the Congress' first list of candidates for the Lok Sabha elections next month.
Only this time, it is going to be a lot tougher. Make that a lot, lot, lot tougher.
Prakash Ambedkar, the Dalit powerhouse and proclaimed leader of the Vanchit Bahujan Mahasangh (Dalit and All India Majlis-e-Ittehadul Muslimeen alliance), has announced his intention to contest from Solapur.
In 2014, Muslims of the Solapur constituency, who constitute 20 per cent of the population, voted against the Congress, proving to be a key factor in Shinde's loss.
Muslims, along with scheduled castes (SC - 14.58 %) and scheduled tribes (ST - 2.43 %), are a sizeable votebank in this constituency.
If Ambedkar does run from Solapur, with the Majlis-e-Ittehadul Muslimeen under the Vanchit Bahujan Mahasangh banner, the Muslim vote will be split again.
The beneficiary of that, quite clearly, will be the BJP, who have not yet announced their candidate for Solapur.
Also Read | Lok Sabha elections 2019: Maharashtra set for two-cornered contest
Ambedkar has also kept the option of the Akola ticket for himself, should his Mahasangh not want to have Solapur in BJP hands again..
Sitting in the water-shadow region of western Maharashtra, Solapur is a prime example of the Congress' lost power in the State. Congress lost the last Lok Sabha polls, then lost in the 2014 assembly polls and also the subsequent civic elections.
As per 2011 census estimates, of a total population of 20,189,49 (20+ lakh), 60.85 per cent is a rural populace, with 39.15 per cent of the population defined as urban, in Solapur.
Political observers believed the "Modi magic" may have waned and part of the problem may lie with sitting MP Bansode, who faces accusations of being 'M.I.A.' from Solapur for most of his tenure.
Bansode, however, has denied the charge, saying, "Though I am a practising lawyer in Mumbai, I am always available for my constituency."
BJP rumours have multiple names on the table for Solapur, including Rajya Sabha MP Amar Sabale; Jai Siddheshwar; Shivacharya Swami, a Jangam community (SC) spiritual leader, who has a strong presence in Solapur.
The power loom and beedi industries are big in Solapur, though the large number of workers employed in these sectors, had a bitter experience during demonetisation.
Jayamma Kondi, 52, a beedi worker residing in the Vidi Gharkul area of Solapur city said she had a bitter experience after the Modi government decided to demonetise in 2016. "Demonetisation activity deprived us of our livelihood, as most of us lost jobs. They promised us alternate jobs, but that still continues to elude us," says Jayamma, adding that Bansode failed to visit the Gharkul area, where beedi workers reside, even once in his five-year term.
It is an opinion that is widespread among the SSI workers in Solapur, many of who are now registered voters.