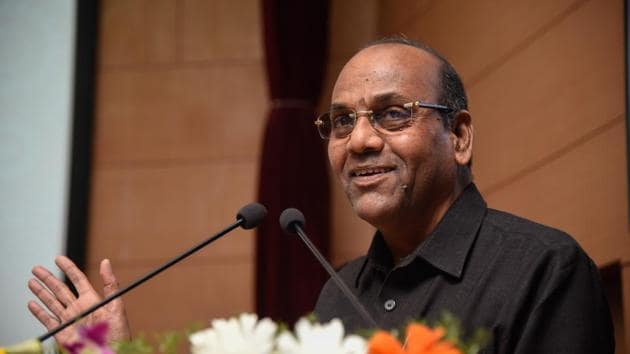 Lok Sabha elections 2019: Geete vs Tatkare promises to be a repeat of 2014 Raigad cliffhanger
The issues that primarily dominate the constituency are lack of employment opportunities, poor connectivity, lack of infrastructure and clean drinking water, farming issues, among others.
PUBLISHED ON APR 20, 2019 05:42 AM IST
As polling day in Raigad nears, the Shiv Sena and Nationalist Congress Party (NCP) chiefs are campaigning hard in the Lok Sabha constituency to wrest control of the region close to Mumbai. The battle for Raigad was a close contest in 2014, decided by a margin of 2,110 votes. In 2019, the battle between the two parties could again be a neck-and-neck one owing to various factors.
Sena's candidate and Union minister Anant Geete, who is looking for a seventh straight term in the Lok Sabha, is up against former state NCP chief and former state minister Sunil Tatkare again.
Raigad constituency, about 130km from Mumbai, has six Assembly segments — Pen, Alibaug, Shrivardhan, Mahad, Dapoli and Guhaghar. A largely rural constituency with aliteracy rate of 80.69%, Raigad has a coastline of 122-km, marginally more than that of Mumbai's. The state has attempted to develop villages in its integrated township policy, where 60% land is used for industries, while the remaining is for residential and commercial use.
The issues that primarily dominate the constituency are lack of employment opportunities, poor connectivity, lack of infrastructure and clean drinking water, farming issues, among others.
During campaigning, Sharad Pawar's NCP attacked Geete for being "inactive". According to NCP leaders, Geete has not performed in his six terms and even more so in the past five years as minister of heavy industries. Meanwhile, Sena chief Uddhav Thackeray is cornering the NCP candidate for his alleged involvement in an irrigation scam .
Tatkare, who was minister of water resources in the Congress-NCP government, is facing charges of alleged financial irregularities and violation of norms in the Kondane irrigation project in Raigad. Questions have been raised over the project cost escalating to ₹327 crore from ₹56 crore during his tenure as minister. Chief minister Devendra Fadnavis gave his nod to the ACB to probe the alleged scam in 2015. Two NCP leaders, both former ministers for water resources, came under the scanner — Tatkare and Ajit Pawar.
"Development is the mainstay of my campaign, but since Tatkare is my opponent, corruption is also a big issue I am taking up," Geete said. The veteran parliamentarian, who has represented Ratnagiri four times and Raigad twice, said he is not worried about anti-incumbency because he has a connect with voters and he has worked for the people.
"Tatkare, who has been with me on stage for many government functions, is shamelessly asking me what we have done [for the constituency]. He came to Pen for a function for a railway project. He travels in the constituency on the [Mumbai-Goa] highway, which is being quadrupled. All these are government projects. He is the epitome of deceit and corruption. Despite being Raigad's guardian minister, he hasn't worked for the people. Instead, he worked for himself," Geete said.
According to Geete, it was because of a government policy to push industries through the private sector that no government project came to Raigad. "If there is any change in policy, I will push for an industry in Raigad. Apart from that, our focus is on tourism, which will generate many employment opportunities to locals. We are improving road infrastructure for that; we are developing Dighi Port, we are also building the coastal highway," he said.
Geete is unfazed by the Peasants and Workers' Party of India (PWP) entering into the Congress-NCP alliance. The PWP holds sway in Alibaug and Pen. In the 2009 elections, the PWP supported Geete, while in 2014, it had fielded a candidate who polled a little more than 49,000 votes. "Mediapersons make it a big deal with three parties coming together (Congress-NCP and PWP). This isn't an alliance of three parties, but of three corrupt leaders for their advantage. The people of Raigad know this, they are with me," Geete said.
Meanwhile, Tatkare is confident with PWP joining forces, he would be able to win the seat. He said the absence of any wave will help him. Interestingly, PWP leader Jayant Patil had raised questions against Tatkare when the irrigation scam broke out. "He [Patil] sought an inquiry against me, which is going on. Nothing has been proven yet. The BJP has accused Sena of corruption in the BMC, but still they are together. They have no moral right to question us. This is a political call to keep communal forces out of power," Tatkare said. Patil, meanwhile, said that the support of his party has been "issue-based".
Stating he is "confident" of victory, Tatkare said, "The people of Raigad are unhappy with him for not bringing jobs. He was the heavy industries minister, but he has not performed." "I intend to bring in employment by getting automobile and IT industries in the area and through develop ing the coastal highway to boost tourism," he said.
Geete, who comes from the Kunbi community, is banking on the support of his community, which along with Marathas constitute around 50% of voters in the constituency. Raigad has an estimated SC population of 3.93% and a ST population of 9.49%. Apart from Muslims, which constitute close to 9%, Dalit voters are nearly 6%. The constituency also has a considerable chunk of Muslim and Dalit voters, who are likely to play a key role. The Sena, which has taken a hard-line Hindutva stance in the election, is seen softening towards the minority in the constituency. Last week, at a rally in Raigad, Thackeray said that "patriot Muslims" are now with the Sena. Last month, former Maharashtra chief minister AR Antulay's son Naveed joined the Sena.
Close