Lok Sabha elections 2019: In terminal decline, AAP remains a pale shadow of its former self
The stand-up comedian-turned-politician is in a tough three-way contest with Kewal Singh Dhillon of the Congress and former finance minister Parminder Singh Dhindsa of the SAD in his re-election bid.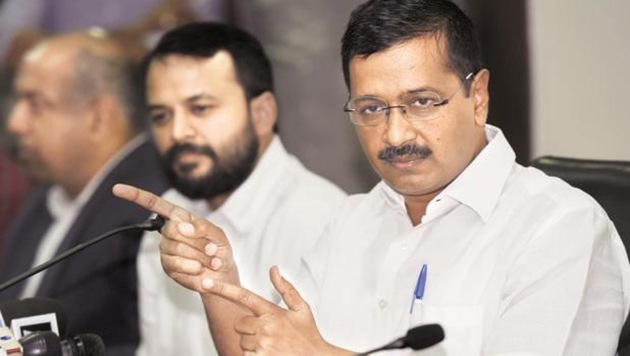 Updated on May 04, 2019 12:41 PM IST
Barely two years ago, the Aam Aadmi Party (AAP) was widely seen as the party all set to end the dominance of traditional parties that had dominated the electoral politics in Punjab for decades.
Its leaders, many of them first generation politicians lured into politics by party chief Arvind Kejriwal's appeal and his promise of "corruption-free, transparent government", were scenting power in the state assembly polls. But, it is an entirely different story today. A sub-par performance in 2017, frequent squabbles and splits have left hurt the party badly. And, the party is a pale shadow of its former self in the state with a flagging support base and an organisational set-up in total disarray.
SHRINKING SUPPORT, LIMITED CONTEST The AAP has had to struggle to find candidates for several of the 13 Lok Sabha constituencies. Its poll battle is limited to just Sangrur seat from where state unit chief and sitting MP Bhagwant Mann, the party's best bet in the May 19 polls, is in the fray. The stand-up comedian-turned-politician is in a tough three-way contest with Kewal Singh Dhillon of the Congress and former finance minister Parminder Singh Dhindsa of the SAD in his re-election bid.
In almost all other constituencies except Faridkot where sitting MP Sadhu Singh is the AAP nominee, the contest is directly between the Congress and the SAD-Bharatiya Janata Party (BJP) combine or is being made triangular by other smaller outfits. "The mood is not the same in most constituencies, but Mann is doing well, thanks to his rural connect and image. This is one seat where we have a strong chance and have gone all out," one of the senior-most state leaders said, requesting anonymity.
Mann, the face of the party in Punjab, is mainly caught up in his own fight and not gone out much to campaign for other candidates. A bit of a letdown from a party that had pulled off a stunning performance in the 2014 parliamentary polls in Punjab as a rookie player by winning four seats – Sangrur, Patiala, Faridkot and Faridkot – with 25% vote share.
Prof Ashutosh Kumar, professor of political science, Panjab University, said the AAP was in a moribund state in Punjab because the leadership failed to build a vibrant organisation, did not develop local leadership and got hampered by lack of resources. "Though it promised internal democracy and transparency, the party leadership lost its basic moral fibre by taking decisions arbitrarily, leaving those who had joined the party driven by idealism disappointed."
COMPETING AMBITIONS, FREQUENT UPHEAVALS Though the party had its share of internal squabbles from the start, things got worse after the 2017 assembly polls in which it emerged as the principal opposition party, pushing the SAD to the number three position. The Punjab leaders and their supporters blamed the central leadership, which virtually controlled the state unit, for flawed ticket distribution and not allowing the state leadership a free hand, leading to state affairs in-charge Sanjay Singh's resignation.
There was no observer for eight months even as several state leaders with competing ambitions and distrustful of each other created chaos and the party did poorly in byelections and civic polls.
Kejriwal appointed his close aide and Delhi deputy chief minister Manish Sisodia as in-charge of party affairs in Punjab, but he, too, could not set the house in order.
All hell broke loose after Kejriwal's apology to Akali leader Bikram Singh Majithia to settle a drug charge-related defamation case. Most of the 20 party MLAs led by leader of opposition Sukhpal Singh Khaira challenged his authority. Though a split was averted, it set off a chain
of events that led to revolt by eight of the 20 party MLAs in July 2018, demanding autonomy, when Khaira was removed from his post.
The party has been plagued by desertions since.
The Delhi chief minister, whose own charisma was the prime reason for the groundswell of support for the party, also seems to be focusing more on Haryana (his home state). However, AAP's campaign committee head Aman Arora said the state leadership was concentrating on the entire Malwa region with Sangrur being the epicentre.
He said Kejriwal would spend five days in Punjab after polling in Delhi and Haryana on May 12 to address a series of public meetings and hold a road show.
Close Story
Personalise your news feed. Follow trending topics