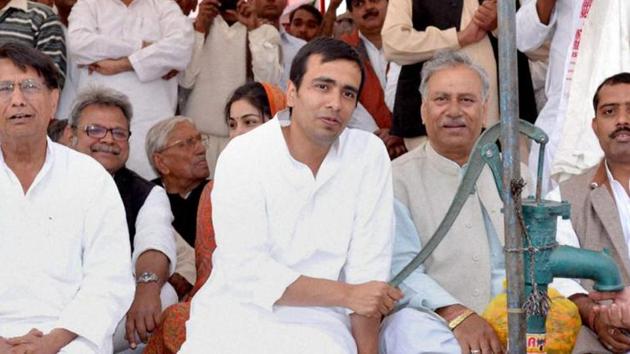 Lok Sabha Elections 2019: RLD's Ajit Singh and Jayant Chaudhary's choice of seats likely to consolidate Jat-Muslim votes
Rashtriya Lok Dal chief Ajit Singh is contesting the upcoming Lok Sabha Elections from Muzaffarnagar constituency and his son Jayant Chaudhary will fight from Baghpat seat , both LS seats in Uttar Pradesh.
Hindustan Times, Meerut | By S Raju
UPDATED ON MAR 11, 2019 11:55 AM IST
Rashtriya Lok Dal (RLD) chief, Ajit Singh and his son, Jayant Chaudhary's decision to contest Lok Sabha (LS) elections from Muzaffarnagar and Bagpat constituencies is likely to consolidate Jat-Muslim votes which were divided after the Muzaffarnagar riots in 2013 and had benefitted the BJP in 2014 Lok Sabha (LS) elections.
Post riots, disharmony between the two communities resulted into the division of votes. RLD failed to win even a single seat in West UP region in 2014. Ajit Singh had lost Bagpat seat and his son, Jayant Singh lost Mathura.
However, this time situation seems to have changed and favourable for the RLD. Victory in Kairana by-election in May last year has revived RLD's prospect and strengthened winning equation in the region.
It became possible with the constant efforts of father-son duo continued holding small meetings and rallies in past four years to bring Jats and Muslims together.
Read | Lok Sabha election dates announced: Know when your state goes to polls
The slogan ' Ganna or Jinna' tossed by Jayant during Kairana by-election had a great impact on voters who chose Ganna over Jinna (symbolically mentioned to depict BJP`s politics of polarisation on communal lines). It went down well with voters and both communities voted RLD`s candidate Tabbasum Hasan and she defeated the BJP candidate, Mriganka Singh.
Saleem Ahmad, president of Danga Peedit Samiti in Shahpur and a riot victim, says, "The decision of Ajit Singh to contest from Muzaffarnagar will bring both communities together after riot because Muslims also believe that he has the potential to defeat BJP and Modi."
He said that people of both communities had understood that riot was a calculated move of BJP to drift Muslims away from Jats for their political advantage. RLD`s national general secretary Hamid Ahmad said, "People's aim is to defeat Modi and the best possible way to do this is to erase communal hatred from masses which was developed after Muzaffarnagar riot."
Ahmad said, "Both preferred convening small meetings in villages and towns to reach out voters against BJP's big rallies and crowding party's big leaders and ministers to woo voters."
Also Read | Congress very much part of SP-BSP alliance, has 2 seats, says Akhilesh
Both Chaudharies even visited the riot affected villages and held meetings with people and asked them to revive their old relations because they can`t survive without each other, he added. RLD leader Ainuddin Shah is also confident that presence of both Chaudharies in the fray would give way to communal harmony over communal hatred. He said Ajit Singh had announced on his 80th birthday that he would work to stem communal harmony in the region throughout the year and he did it by organising 'jansamvad' with people which started from Muzaffarnagar last year in February.
Close