Lok Sabha elections 2019:
₹

22 lakh recovered from hotel rooms 'booked' by Congress candidate

Apr 30, 2019 11:32 AM IST
The Congress party calls it a conspiracy to defame the party candidate on the polling day.
Hazaribag administration recovered ₹22 lakh from hotel rooms allegedly booked by the Congress candidate from Hazaribag parliamentary constituency, Gopal Sahu, in a raid conducted on intervening night of Sunday and Monday, few hours before the polling in three constituencies, Chatra, Lohardaga and Palamu.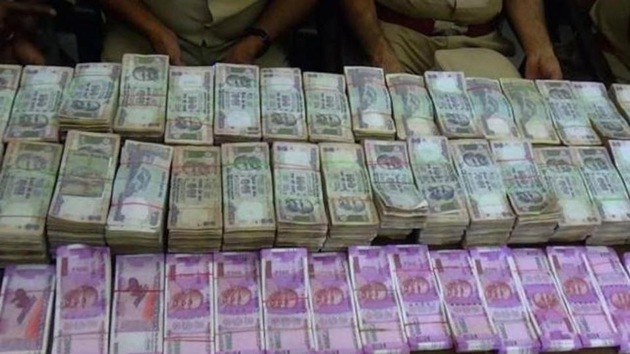 The Congress party calls it a conspiracy to defame the party candidate on the polling day. On a tip-off, Hazaribag district development commissioner (DDC), Jadhav Vijaya Narayan Rao accompanied by sub-divisional officer Megha Bhardwaj conducted a raid at four rooms of the hotel, AK International, allegedly booked by the Congress candidate.
Rao said the team raided four rooms and recovered RS 22 lakh from two rooms. "We also recovered many envelopes from the hotel rooms," DDC said.
Of the four, room no-201 was booked for one SK Mishra, room no-209 for Sandeep Sahu, room no-303 Gopal Sahu and room no-406 for Nanda Kumar, the DDC added.
The DDC said occupants of all four rooms including the Congress candidate had run away just before the raid. "We have handed over the case to Income Tax department for further investigation," Rao said, adding, generally such raids are conducted by IT officials.
"Since there were no senior officials available on Saturday night, we conducted the raid in presence of an IT inspector and a clerk," the DDC added.
Congress spokesperson Kishor Nath Shahdeo termed it a ploy to put Congress candidate in trouble.
"Hazaribag MP Jayant Sinha and chief minister Raghubar Das hatched the conspiracy to defame the Congress candidate. Gopal Sahu is a Ranchi resident and he is contesting election from Hazaribag. When election commission has given expenditure limitation of ₹70 lakh, why the candidate is being troubled," he said.
Congress candidate Gopal Sahu has locked horn with the BJP's sitting parliamentarian from Hazaribag Jayant Sinha. The constituency will go to polls on May 12.
BJP, however, accused Congress party of using black money to woo voters in the elections. "Since Hazaribag people have rejected the grand alliance candidate, Congress is now trying to buy voters with money power," BJP spokesperson Pratul Shahdeo said.
However, further investigation is on.
"We have concrete information that ₹22 lakh was not withdrawn from the bank account that the Congress candidate provided to the election commission. So, obviously it is black money in the whole way," BJP spokesperson said.