Lok Sabha elections 2019: Water, and not war, on people's minds in Bundelkhand
Part of the much-neglected Bundelkhand region of Madhya Pradesh, voters in the Khajuraho Lok Sabha seat complain of issues ranging from water scarcity, slow pace of development to the absence of political will to change the fortune of the city and its people.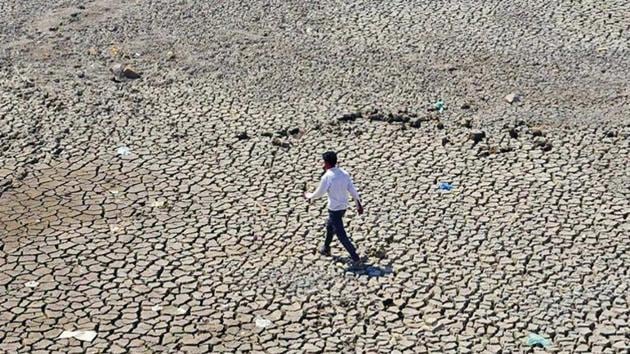 Published on May 03, 2019 07:17 AM IST
"In Khajuraho we don't look forward to the future, we look at our past," says Rajrishi Tripathi, a young entrepreneur.
In this "iconic city" housing a group of Hindu and Jain temples that are recognised as a UNESCO heritage site, a sense of despondency is conspicuous.
Part of the much-neglected Bundelkhand region of Madhya Pradesh, voters in the Khajuraho Lok Sabha seat complain of issues ranging from water scarcity, slow pace of development to the absence of political will to change the fortune of the city and its people.
"It doesn't matter which party is in power, the lot of this place doesn't change. We were better off two decades ago," says Tripathi. Bundelkhand has four Lok Sabha seats — Khajuraho, Tikamgarh, Damoh and Sagar. Of these, Sagar, reserved for scheduled caste candidates, will go to the polls on May 12 in the sixth phase of the ongoing general elections while voting will be conducted in the rest of the three seats on May 6 in the fifth phase.
While the villages in these constituencies have identical problems of shortage of water, poor housing, bad roads, dismal healthcare and education facilities; in the urban areas lack of employment, poor connectivity to other town and cities and the abject neglect top the list of grievances.
"The airport in Khajuraho qualifies as an international airport. How many flights land here? Three a week. How do you explain that when tourism is the backbone of this place?" says Narayan Singh Bayal, convenor of the Indian National Trust for Art and Cultural Heritage (INTACH) and general manager of a hotel.
Residents, particularly those who are dependent on the hospitality sector, blame a private airline for the decline in tourism and pushing the place off the touristy grid.
"They [the airline] took over from Air India [India's national carrier], changed the route that brought more people to this city and jumped the prices to an exorbitant range. Consequently tourists, especially from abroad stopped coming here. And now we have just one flight a week," Bhayal says.
Rajesh Kumar Tiwari, vice-president of the Tourist Guide Federation, claims there has been a 35% decline in tourist footfall annually. "Only some Chinese and Koreans take the trouble of taking the train," he says.
Yogendra Chandel, an aspiring politician and entrepreneur, says the Bundelkhand region fares poorly on health and education parameters. "There are no hospitals here, the sick and the injured have to be rushed to Chhatarpur, an hour's drive. If the hospital there can't handle those cases, people have to drive 8 hours to Bhopal. In most cases, patients die en route," he says.
Lack of development
While the Bharatiya Janata Party government at the Centre takes credit for introducing social security schemes and introducing direct benefit transfers; in rural areas of Khajuraho, Sagar, Tikamgarh lack of development pervades. In these constituencies, water scarcity is as alarming as red-tape that's seen as a hurdle in the implementation of government schemes.
Villagers here allege that "authorities" seek bribe for the delivery of schemes including the Pradhan Mantri Awas Yojna, a flagship housing scheme.
"The BPL [below poverty line] families in rural areas get ₹1.50 lakh for the construction of a house, ₹15,000 for labour charges and ₹12,000 for the construction of toilets. But no one here has got the labour charges. When we ask, the Pradhan [village chief] says it's not been credited. But the fact is that they make us pay between ₹15-20,000 per family to get the rest of the money," says a villager in Chattrauli, asking not to be named. Most of the houses here are in various stages of completion, since the full amount is yet to be credited.
HT has seen BPL cards that were issued to villagers a fortnight ago. All of these are expired. The cards are dated 2013, and are valid only for five years.
"When I went to the bank with this, they told me I'm a fool and sent me off," said another villager.
While district officials could not be reached on phone for a comment, most villagers here claim they have no access to the zero balance accounts that were opened to carry out direct cash transfer.
"Some villagers found out that new accounts were opened in their names in cooperative banks, which they have no access to. Money from the zero balance account is transferred to these," says a third villager.
Gopal Singh, a local BJP leader, claims he wrote to the Prime Minister's Office as well to Chief Minister's office in 2017, saying that the Mahatma Gandhi National Rural Employment Guarantee Act (MGNREGA) wages of some labourers had been credited to the e-wallet of a private telecom company instead of being credited to their regular bank accounts.
He says an inquiry was conducted, but is not sure if the problem was solved. "Wages up to ₹5,000 should be given in cash since it is very difficult for poor workers to keep rushing to the bank to find out if their wages have been credited," he says.
Villagers also complain that cooking gas connections under the Ujjwala Yojna did not come free. In Sagar's Belagram, a group of villagers claim they had to pay a one-time charge of ₹1200 for the regulator. As refilling of a cylinder costs anywhere between ₹600 and ₹750, gas is used sparingly for cooking and firewood is used as a supplement.
In this village of 800 households, water comes from a single well. The shortage is so acute that the only school in the vicinity barely functions. "The teachers cannot fetch water: in the summer, the school barely functions," the villagers say.
Among the other promises that were made to these villagers rehabilitated in Belagram after the Bila Dam construction in Sagar district was tap water, which now remains a pipe dream.
National versus local issues
Another common complaint is the lack of representation from the region in "Delhi".
The BJP's election campaign solely rests on nationalism and the February 26 air strikes in Pakistan's Balakot, forcing people to ask if the local issues will be addressed at all. Prime Minister Narendra Modi is popular, with most people keen on a second term for him, but the lack of attention to their immediate demands is a cause of worry.
On Sunday, at a rally in Luv Kush Nagar, attended by BJP's Vishnu Dutt Sharma, the sitting MP and BJP candidate from Khajuraho, the mainstay of the speech was internal security and action by the armed forces in Pakistan.
"The RSS [Rashtriya Swayamsevak Sangh] forced the party to give the ticket to Sharma. What Bundelkhand needs is a voice from here. The last time we had anyone represent us was Uma Bharti. There has been no leader from the region other than her," says Neeraj Ratoria, a real estate agent.
In Tikamgarh, a seat reserved for SC candidates, where the BJP has fielded Virendra Kumar and the Congress Kiran Ahirwar, residents complain that local issues are missing from electioneering.
"All the BJP leaders are constantly talking about Pakistan. Modi-ji has done a great job and he should get another term but we need to know when we will get better facilities here. There is no water for drinking, let alone irrigation," says Ram Shankar, a local trader.
In Panna, which falls under Khajuraho seat, and is known for its diamond mines, it is the Congress that has focused on local issues.
Former Congress legislator Shrikant Dubey says the party wants to address issues of poor irrigation, lack of medical college in the area and migration on account of mines shutting down.
The BJP has won Khajuraho since 1989, except in 1999, when Congress's Satyavrata Chaturvedi won; Tikamgarh, Damoh and Sagar are also BJP strongholds.
Close Story