Mamata objects to 'Jai Shriram' slogan, cops detain two BJP supporters
Hindustan TImes, Midnapore |
Koushik Dutta
May 04, 2019 10:37 PM IST
A video which went viral shows Bengal chief minister Mamata Banerjee taking strong objection to some villagers in West Midnapore district chanting 'Jai Shriram'
A 23-second video showing Bengal chief minister Mamata Banerjee taking strong objection to some villagers in West Midnapore district chanting 'Jai Shriram' along a highway on Saturday afternoon went viral by evening.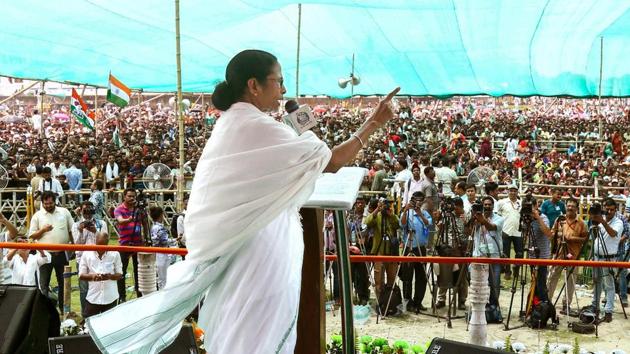 Two Bharatiya Janata Party supporters, Sitaram Midya and Sayan Midya, were detained by police after the incident. Alok Rajoria, district superintendent of police, said they were charged with insulting the chief minister.
The video, apparently shot with a phone by a local resident, shows Banerjee's convoy passing by and some people chanting 'Jai Shriram.' Banerjee's car screeches to a halt and she gets down. In the last few seconds she can be seen shouting at the people who go silent. Banerjee can be seen saying, "Palachhis keno? Haridas sob. Galagali dichhe." (Why are you running away? You riff raff. Badmouthing me.)
Local people said the video was shot in the Radhaballavpur area of Chandrakona in West Midnapore.
The BJP reacted sharply. "She (Banerjee) feels that the words Jai Shriram are an insult but recites wrong mantras (Sanskrit scripts offered to Hindu gods) wherever she goes. Why is she so scared of Jai Shriram? Are these words illegal in West Bengal? She should decide that first," said Bengal BJP president Dilip Ghosh.
Interestingly, another video, showing BJP's Ghatal Lok Sabha candidate and former IPS officer Bharati Ghosh threatening to beat up Trinamool supporters "like dogs" went viral too.
In the video, reportedly shot at Anandapur in the Kespur area, Ghosh can be seen telling two men that she will get 1000 men from Uttar Pradesh to beat up local people who were threatening her.
Ghosh, once a close aide of the chief minister, resigned in 2017, after she was transferred out of West Midnapore. She was soon accused of extortion by the state Criminal Investigation Department.
The chief minister reacted to this. "Stop threatening people. If I share with people the text messages you sent me while in service you will be left nowhere. We could have arrested you long ago," Banerjee said at a roadshow organised in Ghatal in support of her candidate and film star Dipak Adhikari alias Dev.
Dilip Ghosh backed the former cop saying she said the right thing while TMC lodged a complaint with Election Commission of India, demanding cancellation of her candidature.