Surgical strike on poverty, says Rahul Gandhi on minimum income poll promise
Updated on Apr 25, 2020 07:00 AM IST
Congress president Rahul Gandhi said his promise of minimum income guarantee scheme is his party's surgical strike on poverty.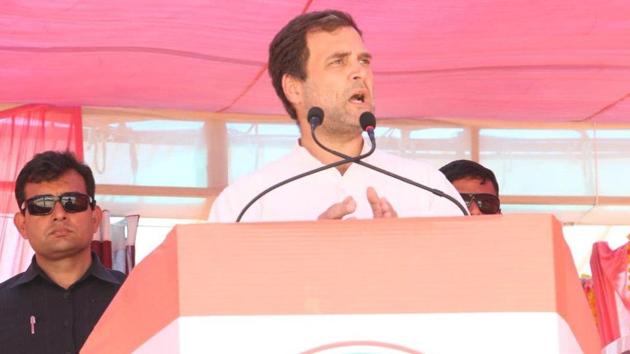 Hindustan Times, Ganganagar, Rajasthan |
HT Correspondent
Congress president Rahul Gandhi on Tuesday said the promise of minimum income guarantee is his party's "surgical strike on poverty" that will ensure there is no poor in the country after 2019. Gandhi said the Congress's promise of minimum income guarantee is "an explosion".
"It will set off a bomb…This is the Congress's surgical strike on poverty. They (the BJP) tried to eliminate the poor. We will eliminate poverty," said Gandhi at a public rally in Rajasthan's Ganganagar.
Watch: 'Surgical strike on poverty': Rahul Gandhi counters BJP on minimum income promise
Gandhi hit out at the Narendra Modi government in his speech alleging that the current regime has brought back people who were uplifted from the below poverty line by the Congress-led UPA rule. "The fact that 25 crore people are living in poverty in the 21st century India is a shame," Gandhi said.
The Congress president said nowhere such a scheme has ever been implemented. "There should not be a single poor person in the country," he said addressing the Congress's Jan Sankalp Rally at Suratgarh in Ganganagar district.
Read more| 'Volte-face': BJP's dig at Congress after it says income promise not a top-up
On Monday, Gandhi promised that his party would, if it comes to power, guarantee an income of at least ₹12,000 a month for 20 per cent of India's poorest families by giving them ₹6,000 a month. He said the minimum income guarantee scheme, named NYAY (standing for Nyuntam Aay Yojana) meaning justice, would cover 5 crore families or 25 crore people, who constitute the poorest 20 per cent of Indian households.
The scheme, if implemented, is expected to cost ₹3.6 lakh crore, around 2 per cent of India's GDP. Gandhi has insisted that it is fiscally prudent.
At his Rajasthan rally, Gandhi said Prime Minister Narendra Modi has tried to "create two Indias" in the last five years giving all the benefits of the government to select few rich people while insisting that if voted to power, the Congress will eradicate poverty completely.
"If Narendra Modi can give money to the rich, the Congress will give money to the poor," said Gandhi, who also took a swipe at the prime minister's chowkidar campaign. The Congress president said PM Modi is a chowkidar but "serves rich people like Anil Ambani instead of the poor".
The BJP has rejected the minimum income guarantee promise of Gandhi with Union Finance Minister Arun Jaitley calling it a "bluff announcement" in his blog. Jaitley also said that the total promised by the Congress ( ₹72,000 a year) is just around two-thirds of what the NDA gives the poor.