'My Hindutva is real': Telangana's KCR takes an unusual swipe at BJP
At an election rally at Nizamabad to campaign for his daughter Kalvakuntla Kavitha, K Chandrasekhar Rao said accused the BJP of trying to garner votes by spreading hatred against other religions.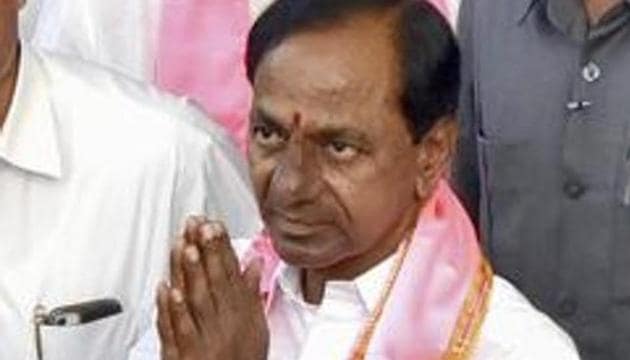 Updated on Mar 19, 2019 11:31 PM IST
Telangana Rashtra Samithi president and chief minister K Chandrasekhar Rao on Tuesday lashed out at Bharatiya Janata Party for pursuing its brand of Hindutva ahead of the elections and accused it of trying to garner votes by spreading hatred against other religions.
"Is BJP a political party or a religious outfit? What business does it have to decide the birthplaces of Rama and Krishna or for that matter, Kamsa, Duryodha, Soorpanaka or Satyabhama?" KCR, as the chief minister is popularly known, said, addressing a massive election rally at Nizamabad which his daughter Kalvakuntla Kavitha represents.
He accused the BJP of diverting people's attention from fundamental issues like unemployment and under-development of the country by raking up issues like Ram Janmabhoomi.
"If there is a dispute on Ayodhya, it will be settled by the judiciary. Why should political parties interfere in religious matters and talk about it in the elections? It is a matter to be decided by peethapadhis (seers) and courts, but not by political parties," he said.
The TRS president wondered whether only the BJP and the Vishwa Hindu Parishad were the champions of Hindutva.
"Have the taken any patented rights on Hinduism? Are we not Hindus? Don't we perform pujas and other Hindu rituals? Don't we celebrate Hindu festivals with religious fervour? Every poor family has a photo of one or the other God at home or at least a calendar of Hindu gods. Are they not Hindus?" he asked.
KCR said the so-called Hindutva being propagated by the BJP and VHP was based on hatred towards Islam and Christianity. "Their Hindutva is bogus. What we practise every day is the real Hindutva. We perform yagams and at the end of every ritual, we chant hymns preach universal peace and brotherhood," the chief minister said, reading out the hymn: "Swasti Prajabhyaam Paripalayantaam.. Loka: Samastha: Sukhino Bhavathu."
He reiterated that given an opportunity, he would bring about a complete transformation in the national polity and governance, and appealed to the people to bless his party with 16 MPs so that he could play a major role at the national politics. Telangana has 17 Lok Sabha seats. While the TRS will contest 16 seats, its ally All India Majlis-e-Ittehadul Muslimeen (AIMIM) will fight on one seat.
The TRS swept the assembly election in Telangana in December 2018 winning 90 of the 119 seats. The BJP had finished with just one.
Close Story
Personalise your news feed. Follow trending topics