'No decision yet, will contest polls only if party wants,' says Priyanka
Speaking at a media interaction in Amethi, she said, "I haven't decided on whether to contest elections or not, but if the party wants me to contest elections, I will."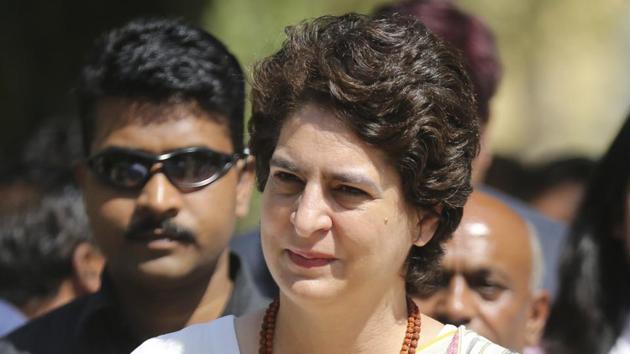 Updated on Mar 27, 2019 11:15 PM IST
Priyanka Gandhi Vadra, the Congress general secretary and the party's eastern Uttar Pradesh incharge, did not rule out the possibility of her candidacy in the 2019 elections.
"If my party says that I have to contest the election, then I will definitely contest," Priyanka Gandhi said in an interaction with journalists in Amethi, the Lok Sabha constituency of her brother and Congress president Rahul Gandhi.
She will also visit Rae Bareli, her mother Sonia Gandhi's pocket borough, in an effort to galvanise grassroots workers for the Lok Sabha elections.
She gave the same reply when asked whether she would campaign for the party across the country rather than limit herself to eastern Uttar Pradesh.
"My wish is that I work for the party because there is a lot of work to be done in the organisation," she added.
"I am telling them [party men] to go to the people and fight the polls strongly."
"This election is being fought to save the country and Rahul Gandhi's victory will be victory of India," said Priyanka Gandhi about her interactions with party workers.
The Congress general secretary reacted strongly to Bharatiya Janata Party (BJP) leaders calling the minimum income guarantee promised by the Congress a "bluff".
"Congress does whatever it promises to the people," Priyanka Gandhi said, noting that the Congress had waived the loans of farmers within 10 days of coming to power in Rajasthan and Madhya Pradesh in December as it had promised to.
At her interactions with booth-level Congress workers, Priyanka Gandhi said Rahul Gandhi had tasked her with ensuring that the Congress formed the government in UP in the 2022 assembly elections and so she was working towards "Mission UP" as well, according to activists who attended the meeting. "You have seen me working till 4 am. I will work harder to accomplish this task," a party worker quoted her as saying at one such meeting.
"We will restart all development projects initiated during the tenure of my father, former Prime Minister late Rajiv Gandhiji. Their [BJP] government took away major projects like mega food park, paper mill and IIIT [Indian Institute of Information Technology] from here. They re-launched the gun factory started by us here," another worker quoted Priyanka Gandhi as saying.
As the closed-door meetings were underway, party workers stood outside the venue raised slogans against Prime Minister Narendra Modi. A group of Jan Adhikar Party workers waived flags to show solidarity with the Congress, their ally.
Priyanka Gandhi told booth-level workers to visit every household in their area, tell them how the BJP had failed in providing governance and remind them of the hardships they faced during the November 2016 invalidation of high-value banknotes and in the aftermath of the goods and services tax implementation in July 2017, Congress activists said. Priyanka Gandhi also tasked workers with strengthening the party organisation.
"I have learnt a lot while working with you here since 1999. We need to strengthen the party at booth level, I have been doing this over the years. This is my area of specialisation," she was quoted as saying .
Given that a demand has been made for Rahul Gandhi to contest a seat in south India too, some party leaders have coined a new slogan — "Abki bar, 5 lakh paar (this time, we will cross 500,000 votes)" — to ensure a larger victory margin for the Congress president.
After holding meetings with workers of Amethi, Priyanka Gandhi will leave for Rae Bareli to hold similar meetings with party workers in United Progressive Alliance chairperson Sonia Gandhi's Lok Sabha constituency. She will later be on a day-long visit to Ayodhya to campaign for the party in the Faizabad Lok Sabha constituency on Friday.
Close Story
Personalise your news feed. Follow trending topics