Adityanath govt promises 24-hour power in district headquarters, 18-hour in rural areas
Government to waive off surcharge on all pending electricity bills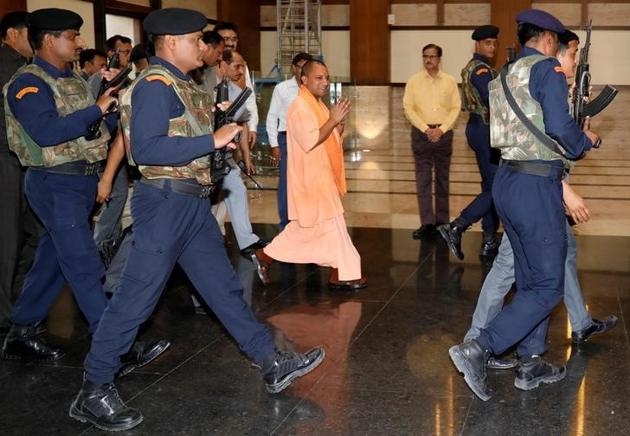 Updated on Apr 27, 2017 06:50 AM IST
Yogi Adityanath-led BJP government in Uttar Pradesh on Tuesday decided to provide uninterrupted 24-hour power supply in all district headquarters and 18-hour in rural areas and announced some relief to potato farmers and sugarcane growers.
The state cabinet in a meeting, second since the installation of the new government last month, also decided that tehsil headquarters and backward Bundelkhand region of the state will get 20 hours of power every day.
It also gave nod to waive off surcharge on all pending electricity bills, including those of domestic and commercial consumers.
Briefing journalists UP energy minister Srikant Sharma said the chief minister, who chaired the three-hour long meeting held at at Lok Bhawan in Lucknow , warned officials against any laxity in implementing the order.
He asked officials to ensure that power is made available at night and during exam hours for the benefit of students.
Samajwadi Party president Akhilesh Yadav was quick to react saying the announcement did not make any sense as his government was already implementing it.
Sharma said though the SP government too had announced to provide 18-hour power to rural areas, it failed to implement it on the ground.
But this government would ensure power supply is provided for the duration it has been announced.
"For this government, every village is a VIP and efforts are being made to ensure 24-hour uninterrupted power supply in rural areas also by October 2018," he said.
Sharma pointed out that 24-hour power supply had been ensured during 'Navratra' to all the 'shaktipeeths' (religious places).
About the one-time settlement scheme, Sharma said though surcharge has been waived of, principal amount will have to be paid. The waiver will cost the state exchequer around Rs 3,500 crore.
The farmers having outstanding power bills of Rs 10,000 or more will be allowed to pay the same in four installments, the cabinet decided.
It also decided to ensure that transformers were changed in 48-hours, instead of 72 hours, in rural areas and within 24 hours in the urban areas.
The farmers will not be required to transport the malfunctioning transformers to the power station. This would be responsibility of the power corporation officials, Sharma said.
A memorandum of understanding (MoU) will be signed under the union government's 'power for all' project in the presence of Yogi Adityanath and union power minister Piyush Goyal in Lucknow on April 14, the minister said.
The pact will be inked to meet the Centre's target of making the state energy efficient by 2018.
Relief for potato farmers
The cabinet decided to purchase 1 lakh metric tonnes of potato at Rs 487 per quintal to protect the interest of potato farmers.
"The government wants to give adequate price to potato growers. Even if we cannot give them profit, we will ensure they do not incur loss," Sharma said.
He said district magistrates were asked to set up procurement centres wherever needed.
If the previous SP regime had played a proactive role, the condition of potato growers would have been better, he added.
Sugarcane dues to be paid in 14 days
The government also made it mandatory to clear the current dues of the sugarcane growers within 14 days and previous dues within 120 days.
"Legal action will be initiated against sugar mills if they fail to make payments," Sharma said.
Steps to end shortage of building materials
The state cabinet also decided to amend the Uttar Pradesh Minor Minerals Rules, 1963, in a bid to end the shortage of sand and coarse sand, which is adversely impacting construction activities.
Health minister Siddharth Nath Singh said the state cabinet had constituted a committee, headed by deputy chief minister Keshav Prasad Maurya, at its last meeting to look into the issue.
The committee had submitted its report, he said.
The state government will allow transportation of "minor minerals" with valid transit permits from other states.
As a short term measure, district magistrates will issue e-tenders to allocate up to 10-acre area for sand mining for six months. He said short term measures had been initiated as implementation of long-term measures may take six to eight months.
Close Story
Personalise your news feed. Follow trending topics