Exercise, even if it is for 10 mins, says Luke
Holistic nutritionist and motivational speaker Luke Coutinho spelt out his 'four pillars of good health' during his recent visit to Lucknow.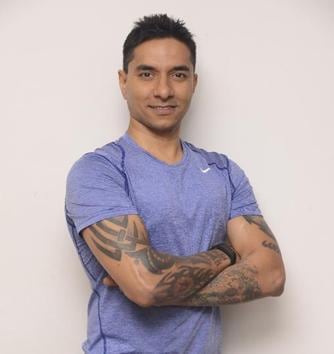 Published on Jun 11, 2018 03:27 PM IST
Hindustan Times, Lucknow |
Deep Saxena
Holistic nutritionist and motivational speaker Luke Coutinho spelt out his 'four pillars of good health' during his recent visit to Lucknow. Here he talks about four parameters - food, exercise, sleep and emotional stress. Luke has authored 'The Great Indian Diet' and with actor Shilpa Shetty Kundra wrote 'Eat Smart, Move More and Sleep Right'. Excerpts from the chat:
Elaborate the four pillars?
There are four ways. First, balanced nutrition which means don't eat too less or too much. One can have junk food too but in moderation! Secondly, exercise -- walking, running, gyming, yoga or dance. If you can't do 1 hour, do 20 mins or whatever but do it properly. Next is sleep which is extremely important. Due to socializing and work, people get careless about this aspect which affects their immunity. Lastly, emotional stress. In stress, you drink, smoke, eat junk food and lose sleep. So, with this combination one can get results.
How do you approach it?
There needs to be more awareness about diabetes, cardiovascular diseases and lifestyle disorders which can be checked with some small lifestyle changes. We need to invest more in prevention than start working on it when it actually happens. Also, when people get some ailments they blindly start the treatment without getting into the root cause of it.
Sugar is said to be mother of all problem!
I too feel white sugar is the biggest evil. One cup of tea/milk with moderate sugar once in a while is fine but overconsumption of white sugar is a big problem. Jaggery and its crushed sugar is the best (in moderation) as its natural, not processed and nothing is added to it. Rest of them that are sold as sugar supplements, including brown sugar, all processed and not recommended.
What about salt?
Sendha namak or Himalyan rock salt is better. They have some traces of iodine in it so no problem having it. From small to elder, all can have it provided there is no medical condition where iodised salt is recommended.
There is too much confusion about the oil/ghee?
Pure ghee is the best thing as Indian food is cooked in high temperature. Then there are area specific ones like coconut oil in South India and costal belt, mustard oil, unfiltered and cold-pressed oil and not the refined ones. Olive is not for Indian condition and even much-hyped canola oil is processed. They are all marketing creations.
A lot of buzz has been created about oats, museli and superfoods?
Oats and all are fine but should not replace our traditional food like chilla, poha, upma, dhokla etc. We need to understand that having oats once in a while is fine but not as an everyday affair. Our age-old 'daadi-maa-ki-recipe' is the best.
What types of fruits and veggies you recommend?
This is a season of mango and lichi so eat them as it's grown locally. Instead, what people do is savour blueberry which is flown from the US and other part which does not makes any sense. I don't stop my people from eating mango. One should. All of us know our body and medical condition, so it should be done accordingly. Best is to eat fresh seasonal food instead of eating something in summer which is typically a winter veggie. Also, it's a very national cause and an incentive to local farmers.
How did you get into this industry?
I always had interest in fitness and often wondered why so much suffering when we have so many doctors and technology. Where is the gap. I saw that we are getting treatment for ailments and not going into the root cause of it. So, we started working on a holistic approach where we work together with the doctors.
You always wanted to become a nutritionist?
Actually, I did not know what I wanted to be. I got admission in IHM, Goa and continued with it as my parents had paid a heavy fee for it. We had a subject of nutrition and I fell in love with it. I completed hotel management, worked in different companies. By and by I knew what I want in future.
What do you say to 'non-starters' and fence-sitters?
If you don't have time, then it's not necessary you do a one hour thing. Do 10 minutes and whatever possible. Do yoga, walk 10,000 steps, run, swim, jog, play, zumba, dance, Tabata or play any game. It's not at all compulsory to go to the gym. One should but it's ok if you don't have time.
You give lot of stress on water?
Our 75% body is water and any reduction affects our cells, tissues and organs due to dehydration which causes constipation, bloating, low energy etc. Then we try to correct it through medicines whereas all we need is water. For normal persons anything between 10-14 glasses are fine but that depends on your physical activity, medical condition and other parameters. In my regular FB live videos I tell all to make a sincere start and rest will follow.
How did you find Lucknow in terms of fitness?
It's is my first visit. I am happy to see people working out in morning in parks. People who consulted me during the visit were well aware about health and fitness aspects. With what I saw, I will give it 5 out of 10 on the fitness front. So there is lot of scope as they are conscious about fitness.
Close Story