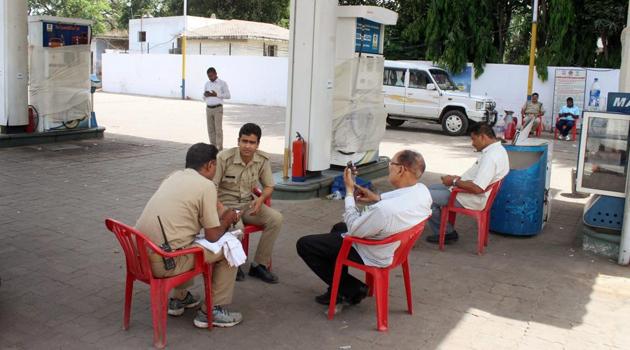 UP petrol pump racket: Tampered dispensers, less fuel, Rs 200 cr profit a month
The UP Special Task Force made 23 arrests, including an electrician who claimed to have installed the chip-based device in over 1000 fuel stations across the state, and in other states too. The probe is expected to expand across UP.
Hindustan Times, Lucknow | By Rohit K Singh
UPDATED ON MAY 08, 2017 07:13 AM IST
Uttar Pradesh authorities on Friday discovered that several petrol pump owners in Lucknow have been siphoning off over Rs 200 crore per month from customers by means of a chip-based device that dispenses less fuel when activated.
An initial probe by the UP Special Task Force (STF), which raided seven petrol pumps on Thursday, stated that around 80% pumps across the state were dispensing less fuel than what was being charged to the customer.
The task force on Friday arrested 23 people, including four petrol pump owners and an electrician, and filed as many as seven FIRs. More arrests are expected to take place.
As the extent of the probe expanded to the rest of the state, Union petroleum minister Dharmendra Pradhan said strict action would be taken against those involved.
"While initial probe suggests that the "wonder chip" is already installed at around 80% of fuel filling stations in UP, the figure could further go up as the probe progresses and more facts tumble out," senior superintendent of the STF, Amit Pathak said.
All seven petrol pumps were sealed and about 14 people were being questioned in this connection, assistant superintendent of police, STF, Arvind Chaturvedi said.
On a tip-off, STF sleuths picked up Rajendra, an electrician who used to install these chips in petrol dispensing machines which reduced the fuel output, he said.
"On his information, we carried out raids in seven petrol pumps and found that all of them were using the chip and making profits by saving petrol in every filling," the ASP said.
Rajendra reportedly admitted to installing the chip in hundreds of refilling stations in the state capital and other districts, as well as other states.
Raids will also be carried out in other parts of the state as the STF has information that the chip has been sold to a large number of pumps, Chaturvedi added.
The chip when installed in the dispensing machines reduces the output by nearly 5-10%. It is attached by a wire which is linked to a remote control that sets the limit, the STF said. This means a customer will get only 940 ml petrol for the price of one litre.
Up for sale in Kanpur and Delhi, the tech comes with a diagram that explains how to install it in the machine. While each chip costs around Rs 30,000 – 40,000, an electrician charges around Rs 5,000 – 10,000 for installation.
The remote control for activating the chip can operate upto a 100 metres radius, making it convenient for vendors to carry in theirs purses.
"On an average petrol pumps (at prime locations) used to earn Rs 12-15 lakh extra per month, and in a rural area or remotely located petrol pump would earn at least Rs 6-7 lakh extra by cheating consumers this way," the SSP said.
The arrested electrician claimed that members of his gang had been installing the chip at petrol pumps for the past seven years, and that similar gangs were in the business too.
Close