MCA movie review: Too much happens too soon in this Nani and Sai Pallavi starrer
Updated on Jun 17, 2019 01:13 PM IST
MCA movie review: The romance between Nani and Sai Pallavi is so odd and hilarious and that's what makes the first half of the film charming.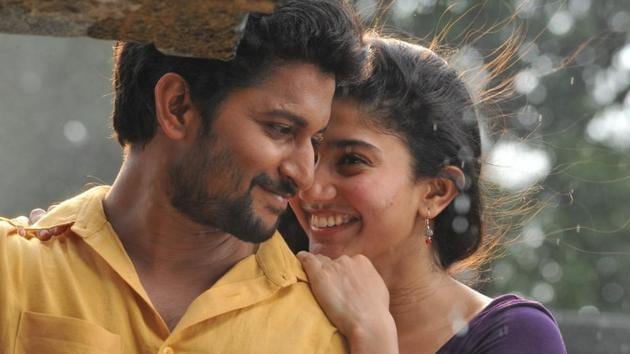 MCA - Middle Class Abhayi
Director: Venu Sri Ram
Cast: Nani, Sai Pallavi, Bhumika Chawla
Rating: 2
Middle-Class Abhayi starts off on a high note and goes downhill from there. Watching the film felt like a road trip gone bad.
Nani's MCA begins as the story of two brothers who love each other so much that the marriage of one is nothing short of a transgression. Nani (called Nani in the film) loves his brother so much that when a sister-in-law Jyothi (Bhumika Chawla) enters the picture, the emotion she evokes is jealousy.
An unemployed man, Nani decides to hate the "heartless woman" forever and the fact that she finds work for him in faraway Hyderabad doesn't help her case. All this is established in the first 15 minutes of the film and then he is forced to accompany her to Warangal where she has been transferred.
He hates it, but he has to do it for his brother and it is this stretch of the film that hits the high notes. The situational songs, the frustrated looks, and the comic timing work well.
What works even better is Pallavi's (Sai Pallavi) intro scene. It begins the clichéd way. He spots a beautiful girl at the bus stop, stops, stares and takes a U-turn to park nearby and continues staring. Only, this girl comes up to him and confesses that she loves him and asks him when they should get married. Poor Nani is speechless and the audience in splits.
She doesn't tell him her name, or why she likes him. The romance between them is so odd and hilarious, and that makes the first half of the film charming. Once Nani and Pallavi meet, it feels like the director is hurrying to get over with the fun part of the film to get to the serious bit. In the next 30 minutes, you have two dance sequences, the beginning of the conflict between the antagonist Shivanna and Jyothi, and Nani realising what his sister-in-law means to him. There is so much happening that you lose interest.
Do you know what happens when you open a wardrobe that's chock full of stuff? Things start falling out of it and the second half of the film felt exactly like that.
In an attempt to give Nani's love life and his relationship with his sister-in-law equal footage, the director has failed to add depth to either. On top of this, we have a villain threatening Nani's his family. And bang in the middle of this, we get a family song. It was like hitting a speed bump when you are driving at a high speed.
When we look at the film as a whole, it is like a lot of interesting things were shot and stitched together haphazardly. Maybe, only focusing on middle class Abhayi's love life would have made it better. One can't fault the actors in this case, and in fact it is Nani's comic timing and Sai Pallavi's fresh appeal that made this film tolerable.
The author tweets @Priyanka_s_mcc
Follow @htshowbiz for more
ott:10:ht-entertainment_listing-desktop