Patel Ki Punjabi Shaadi movie review: Rishi Kapoor, Paresh Rawal's film is distasteful
Updated on Sep 16, 2017 12:51 PM IST
Patel Ki Punjabi Shaadi hangs between totally slapstick and situational comedy. Here's our movie review of Rishi Kapoor, Paresh Rawal's film.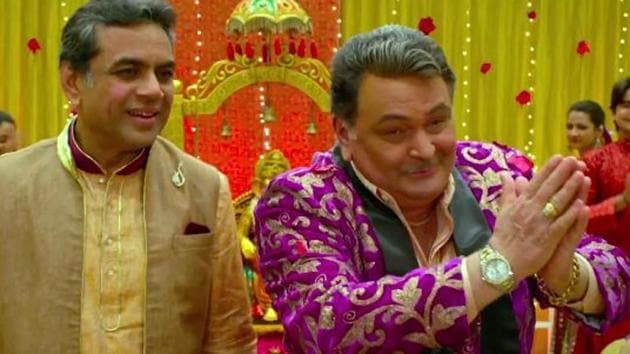 Patel Ki Pujabi Shaadi
Cast: Rishi Kapoor, Paresh Rawal
Director: Sanjay Chhel
Rating: 1.5/5
Monty Tandon (Vir Das) is talking to his neighbour Pooja Patel (Pooja Ghosh) in Gujarati-dominated Adarsh Society in Mumbai. He looks the other way for a minute and Pooja is gone. What he spontaneously spits out is 'saali kutti'. Then the camera lowers and we see a dog.
This is one of the many attempted gags in Patel Ki Punjabi Shaadi that shows the marriage of Monty, son of a really loud Punjabi family, and Pooja, daughter of ultra-righteous Gujarati family. While Guggi Tandon (Rishi Kapoor), a garage proprietor, is head of the first, a shrewd businessman Hasmukh Patel (Paresh Rawal) is the patriarch of the second.
Things start getting pretty messed up from the moment Guggi's son Monty falls for Hasmukh's daughter Pooja.
Patel Ki Punjbai Shaadi relies on gags like this:
A customer enters Hasmukh's grocery store and asks for a kg of ration. Hasmukh weighs exactly a kg and removes four extra grains. When questioned, he convinces the customer how he shouldn't take even a single grain without paying as it's a sin. This introduction tries to establish what Hashmukh keeps saying throughout the film, "Business hum Gujaratiyon ke khoon me hain." Or, more authoritatively, "Emotions and economics ko mix mat karo."
On the other hand, the Tandons have Prem Chopra as the granddad who loves to dance, drink and speak, "Mera naam hai Prem, Prem Tandon." You know how it sounds!
The jovial Tandons also have a hilarious Divya Seth as the mother Pummy who swears and does whatever other members of the family do. When Hasmukh asks her with innocence, "Aap aurat ho ke gaali deti hain?" She replies, "Ab itti si baat ke liye sex kya change karwana."
And then occasional 'hey ji re' and 'burrah' keep playing in the background.
The first half throws in some one-liners initially, but they slowly pave way for long dialogues on 'Gujarati asmita' and how Gujaratis have contributed to India's development since Independence. A few minutes more and it begins to sound like an election pamphlet. At one point, Paresh Rawal says, "Ek din akela Gujarat China se takkar lega."
The Punjabis are no better. They rely on dialogues like, "Beta padosi ko shuru shuru me gaali nahi dete," or, "Abe ye gaushala chalate hain toh shaadi kya tabele me karenge?"
Watch: Our Facebook Live discussion on Simran, Lucknow Central, Patel Ki Punjabi Shaadi
Vir Das tries to evoke laughter when he is not rapping "What's up o mata rani," but that's insufficient.
Eventually he dumbs it down to this:
Pooja: Kya chahiye tumhe?
Monty: Ye sawaal hai ki offer?
Sanjay Chhel's light-hearted take on the clash of two entirely different groups of people lacks a constant flow of good jokes. He tries but very few jokes make us laugh.
Patel Ki Punjabi Shaadi hangs between totally slapstick and situational comedy. On top of that, songs like 'Maaro line toh tabiyat fine' and 'Seeti maar' make it even more distasteful.
It's a tedious watch even with a reasonable 120-minute duration. Patel Ki Punjabi Shaadi demands patience and is not likely to make many smile.
I will leave you with a scene from the film. Laugh if you like.
Monty and Guggi bring a cow to an actor's house and ask for his forgiveness. Just when the other actor is making up his mind, Monty says, "Dekho guy (cow) bhi keh rahi hai ki this guy is innocent."
Trust me, I tried to laugh.
Interact with Rohit Vats at Twitter/@nawabjha
ott:10:ht-entertainment_listing-desktop
Personalise your news feed. Follow trending topics