Super Nani review: It is loud, badly planned and lousily executed
Oct 31, 2014 06:50 PM IST
Indra Kumar, the director of Dil, Beta, Raja, Masti and Grand Masti, is back with his latest film Super Nani and it seems he is still stuck in the '70s. The film has an outdated storyline which is badly executed.
Film: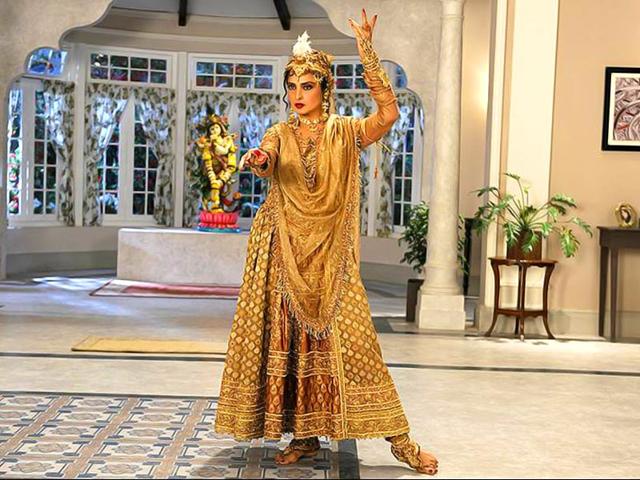 Super Nani
Cast:
Rekha, Sharman Joshi, Randhir Kapoor
Director:
Indra Kumar
Rating:
1/5
Indra Kumar, the director of Dil, Beta, Raja, Masti and Grand Masti, is back with his latest film Super Nani and it seems he is still stuck in the '70s. Despite having a thought provoking climax, the film gets reduced to a collage of tacky family dramas of Nutan-Mena Kumari era. Interestingly, the film has an entire 20 minute sequence that pays homage to yesteryear heroines. However, all this happens in such a manner that the audience starts feeling trapped inside a saas-bahu soap.
Bharti Bhatia (Rekha), a Patna born hardworking lady, has spent her entire life in the service of her family that includes her husband RK Bhatia (Randhir Kapoor), son Suketu (Rajesh Kumar) and daughter Gargee (Anchal Dwivedi). Her daughter-in-law (Shreya Narayan) is also a pain in the neck for Bharti. Nobody treats Bharti better than a doormat until her relative Mann (Sharman Joshi) arrives from America who devises a way to turn the tables and put Bharti back on a high pedestal.
The film has a regular storyline which showcases Rekha as a helpless mother who simply accepts every rude gesture of her family members as another litmus test. This too shall pass is her mantra in life while in her heart she craves for her husband's attention who is simply blown away by his secretary's intelligence and beauty. Seems like an old story? I can't take a no for no because this is one story which has been played on Indian celluloid for more than 50 years, and even the most creatively challenged filmmaker stopped milking this plot two decades ago.
I am ok with the fact that Indra Kumar made a film on a mother's plight but I can't sustain the treatment he has given to it. There is one sequence in the film which shows Rekha cooking food for everybody and singing a prayer to Lord Krishna for the eternal welfare of her family and then she comes back to the dining table only to be humiliated again. Sorry, but more than Rekha this becomes a torture on the audience's intelligence.
I am not denying the fact that it could be a reality in today's India. In fact it is, but why should an innocent moviegoer suffer because the director couldn't think of anything better. Anyway, just when Rekha thought it's a never-ending saga, she gets selected for a modeling assignment. This turns out to be a life changing move for her and she starts earning money, power and respect, but her family still needs a severe jolt to accept her authority.
The transformation from Mother India to Mrs India happens in a jiffy and Rekha becomes a woman who can seek revenge and get some screws tightened. As expected, everyone realises their mistake and the house becomes a home, hopefully forever.
Super Nani is loud, badly planned and lousily executed. Rekha as Bharti Bhatia tries her best to save a film which simply refuses to grow beyond the walls of Lalita Pawar's house but there is absolutely no novelty and freshness in the idea and the characters are so strident that the viewer begins to blame his fortune within minutes.
Watch: Super Nani trailer


Indra Kumar is a veteran and knows the tricks of the trade and thus his choice of making a film like Super Nani astonishes me. Actors can't do much about a film which is based on a redundant premise and as a consequence they look bored, uninterested and tired.
The climax of the film generates some sympathy towards the cause of women empowerment but Randhir Kapoor's hamming takes away even that bit of compassion out of the flabbergasted spectator.
Super Nani isn't worth your time. It has absolutely nothing to offer. I wouldn't be surprised if some actors never get a call from producers after this film.