2 more housing societies object to Dosti work after Mumbai's Wadala landslide
Hindustan Times |
, Mumbai
Eeshanpriya MS
Jun 29, 2018 12:38 PM IST
They now want the BMC to conduct checks to ensure that their buildings are safe.
After Lloyd Estate, residents of two more buildings in Wadala -- Dosti Blossoms and Dosti Daffodils – approached the Brihanmumbai Municipal Corporation (BMC) on Thursday to ask them to ensure their safety amid construction on the adjoining Dosti Realty plot, known as Krishna Steel Compound.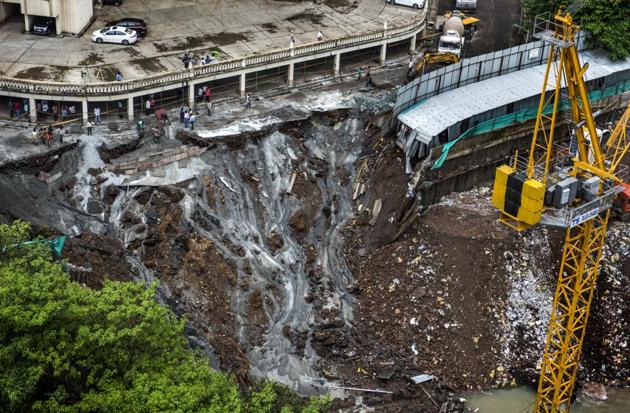 A landslide at the Dosti Realty plot on Monday caused six cars to slip into it on Monday morning. The structural auditor appointed by the residents, Nitin Kamble, said there were major cracks in the buildings, the basement ground was sinking, and the compound walls were deviating owing to the excavation work at the construction site.
Residents of Dosti Daffodils, which houses 140 flats, demanded structural audit and soil testing survey of their building. Chen Jacob, secretary of Dosti Daffodils, said, "My building is sevenstorey high. It developed wide cracks a year ago, when the construction at Krishna Steel started. Two of our water pipelines burst two days ago."
Dosti Daffodils first wrote to their builder in January 2016 and BMC's F North ward office in October 2016. However, the civic body slapped them with a counter notice in February 2017, threatening a minimum fine of ₹25,000 if the society failed to get a structural audit done within six months.
Dosti Blossoms want Dosti Realty to fix the damage caused to their building. They claim they wrote to BMC six times in eight months, between March 2017 and October 2017, about the problems, but BMC in turn sent them a notice. "A part of our compound wall has collapsed," said Anjali Malwade, secretary of Blossoms.
A spokesperson from Dosti Realty said, "We deny the allegations. All safety measures and steps advised by our consultants and experts have been taken. The matter is subjudice, we refrain from commenting." Despite repeated attempts, civic officials not be reached for a comment.