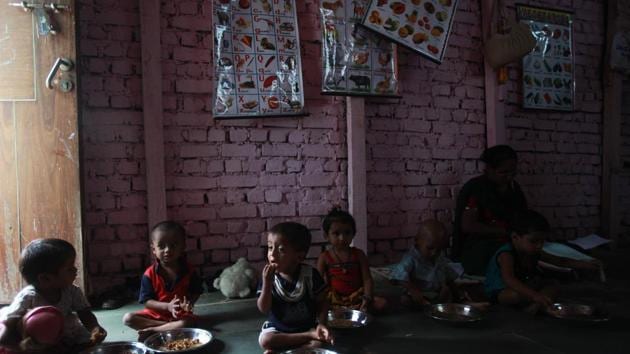 3.6% drop in severe malnutrition cases in Maharashtra
7.6% drop in moderate malnutrition cases in one of the eight most vulnerable pockets of the state
Hindustan Times | By Sadaguru Pandit
, Mumbai
UPDATED ON JUN 22, 2018 12:30 AM IST
There has been a 3.6% drop in severe malnutrition cases and 7.6% drop in moderate malnutrition cases in one of the eight most vulnerable pockets of the state, thanks to the three-year Urban Nutrition Initiative (UNI).
UNI, a public private partnership (PPP) to tackle malnutrition, was based on the premise of 'optimal results with minimum resources' and since 2015, has reached out to 32,258 children, between 0-2 years, 12,383 pregnant women, and 12,338 lactating mothers.
Tata Trusts, Rajmata Jijau Mother and Child Health and Nutrition Mission and some NGOs under the Committed Communities Development Trust (CCDT) joined hands for to implement UNI across eight high burden Integrated Child Development Services (ICDS) projects in Mumbai, Thane, Malegaon and Nagpur.
Since the period between pregnancy and a child's first two years is critical in preventing malnutrition, UNI focused on providing nutrition to the mother (from gestation) and the child in the first 1,000 days.
Vinita Singal, IAS, secretary, department of women and child development said, "Malnutrition can be eradicated within a generation if only we can focus on to-be adolescent mothers and enhance their health. Efforts must begin even before a child is born," said Singhal.
Chhaya Rade, COO, CCDT, explained how six key interventions—enhancing demand for ICDS, home visits and counselling regarding child rearing and feeding, and monitoring and enhancing maternal health – were implemented as the part of UNI. "UNI works with existing government machinery and renders these services more effective. By partnering with existing government machinery and leveraging community-based monitoring mechanisms, the model is rendered sustainable," she added.
Close