Leopard killed on Pune-Nashik highway
The leopard died on the spot 15 minutes after the accident happened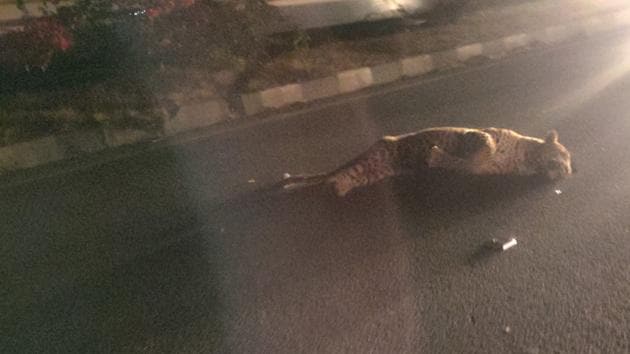 Updated on Dec 31, 2019 11:52 PM IST
A four-year-old male leopard was killed in a hit-and-run incident on Monday evening on the Pune-Nashik highway.
According to forest officials, a four-wheeler travelling at a high speed rammed into the wild cat as it was crossing the road around 7.15pm near Chandanapuri village in Sangamner, Ahmednagar district.
"The leopard died on the spot, 15 minutes after the accident happened. The post-mortem result showed that his hind legs were broken," said Nilesh Akhade, range forest officer, Sangamner.
There have been four such cases of leopard deaths due to road accidents along the Pune-Nashik highway in 2019 after the stretch was converted from a two-lane to a four-lane highway earlier this year, said Akhade.
"Since twice the numbers of vehicles are moving at high speed on this four-lane highway, leopards crossing over from sugarcane fields are confused as to which side they need to go, and while trying to rush to one end of the road, they are hit by vehicles," the forest officer said. The department has decided to set up signage to control vehicle speed in this zone.
Experts said there could be two reasons why Maharashtra has the highest number of leopard deaths due to road accidents. "The state has one of the highest leopard populations. Also, the number of linear infrastructure projects is increasing rapidly," said Tito Joseph, programme coordinator, WPSI.
Close Story
Personalise your news feed. Follow trending topics