After Eman Ahmed drama, Maha health minister wants guidelines for foreigners seeking medical treatment in India
Updated on May 07, 2017 12:42 AM IST
Eman Ahmed's sister Shaimaa Selim had turned hostile towards the Mumbai doctors and hospital staff, terming them 'liars'.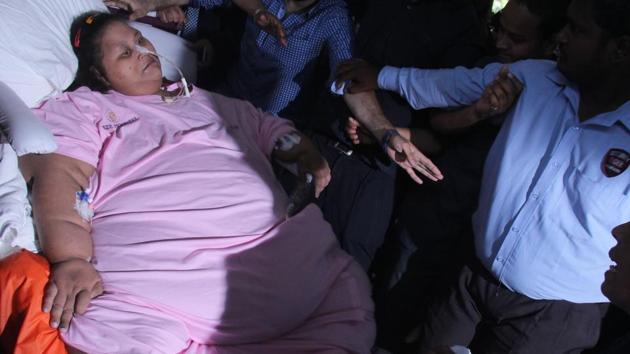 Hindustan Times |
, Mumbai
Aayushi Pratap
After the public spat between Eman Ahmed's sister and Saifee doctors over her treatment, state health minister Dr Deepak Sawant has called for a standard operating procedure (SOP) for foreign nationals who visit India for treatment.
Talking at an event in the city, Sawant urged the Central government to establish an SOP to ensure that things do not turn sour between foreign patients and Indian doctors. "Private hospitals bring patients to India for treatment, but when things become bitter between them, it is the doctors who face trouble," said Sawant to the union health minister for health and family welfare, JP Nadda.
Eman Ahmed, 36, who at 500kg was considered to be the world's heaviest woman, was brought to Mumbai on February 11 for weight loss treatment. While she underwent a bariatric surgery on March 7 and lost 333 kilograms over a period of three months, Eman's sister turned hostile towards the doctors and hospital staff and called them 'liars'. She alleged that Eman's health was deteriorating, however her doctors dismissed her claims and said Eman was doing 'medically fine'.